Sonfjallet National Park is probably most known for its wild animals population. The Park with significant Sonfjallet Mountain in its background is home to some wild and interesting natural inhabitants. The enchanting forest is where the bear refuge is hiding, one of the most important ones in Scandinavia.
Therefore, if you are looking for an experience to spot a bear you found a right place to be. Traces of them can be found all around, although spotting one can be quite a tough challenge to be conquered. Claw marks on tree barks are a proof of bear presence.
The park has the biggest concentration of bears in Sweden. This amazing animal presence opens opportunities for various bear safaris and specially tailored tours for visitors wanting to enjoy their visit to the fullest.
Another common animals are for instance the elk, wolves or lynx. All those can be seen in the area covered by wide forest and brisk streaming rivers. Mountain slopes are covered by an extensive system of channels from glacial drainage which is a remnant from the last Ice Age.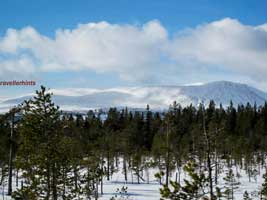 The Sonfjallet National Park is also a place with extremely well preserved geological formations as the aftermath of the melting ice sheet which used to cover the inland of Scandinavia.
Sonfjallet National Park: Thing to do 
The Park is interconnected by hiking routes and marked walking trails. Those vary from short and kids friendly to long ones, requiring lots of time and energy.
The trip to the top of the mountain is a day-long hike and there are also several days-lasting trips and adventures within the park. All paths are visibly marked and easy to follow even for hiking beginners.
Visitors can stay in cabins available for rent within the park or in the only hostel in the Park called Sododalen. Together with the rest of the country, camping in the wild nature is allowed technically anywhere, as long as you do not harm your surrounding.
Book the best hotel deal here