Beautiful Abisko National Park is situated in the heart of the northern Swedish Lapland region, inside the Arctic Circle. Signature landscape is mountain sceneries, flowery alpine meadows and the clear water of one of the Swedish largest lake – Lake Torneträsk.
It is located nearby the Norwegian border, close to the major city of the area, city of Kiruna. The wilderness of Lapland is pretty famous and so it the Abisko National park.
The biggest highlight of

Abisko

is, undoubtedly, the Aurora Borealis Light show on the sky. Seeing the Norther Lights is one of the experience of a lifetime and Abisko National Park

 is one of the perfect places to do so.
The Aurora Sky Station is also located there. Apart from the Northern Lights during winter months, there is also a possibility to experience the exact opposite of it, the Midnight Sun during summer when the sun barely drops below the horizon allowing you to enjoy an endless day in the Swedish north.
Abisko National Park: When to visit & things to do
There is no perfect time for visiting Abisko. Winter allows you to sneak into the true winter wonderland where the snow blanket has no end and it hurts to breathe – that's how cold it gets. But that only opens all the winter opportunities such as snowmobile trips or dogsledding through the breathtaking landscape, exploring the ICEHOTEL, going ice fishing and enjoying the light show miracle on the sky.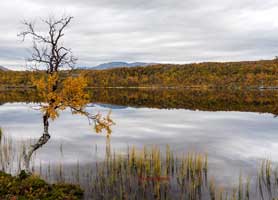 Proper clothing is although a must as temperature can drop down tonegative 25 degrees of Celsius which, for some individuals, can be very extreme and hard to cope with.
Thanks to the mountains surrounding the National Park, the possibility of having a clear sky is very high. However, it is not guaranteed that you will see the northern lights.
During summer months, Abisko is a perfect location made for nature lovers. There is plenty of hiking trails and the surrounding wilderness and pristine nature of this spectacular valley is absolutely stunning. You will probably never want to stop exploring Abisko's streaming rivers, lakes and forests.
Book the best hotel deals here