Abu Dhabi is a glorious capital city of the United Arab Emirates. After Dubai , it is the second largest city by population in all seven emirates.
The city with population over one and half million people is situated by the Persian Gulf coast, specifically on a small island in the central part of the UAE's coast.
Abu Dhabi in Arabic means "Land of the Gazelle" which is bounded to the history / a legend about an antelope which led an entire tribe to a place with fresh water in the Arabic dessert.
The island with simple palm trees huts and become a settlement and never stopped evolving ever since. Nowadays, Abu Dhabi is a modern, shiny, ever growing and cosmopolitan metropolis of the entire UAE and the region.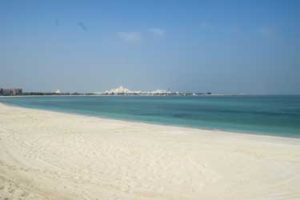 It is a developed city with famous skyline created by high rise buildings standing tall and proud with the ocean's backdrop.
Some of the most world class recognizable features of Abu Dhabi is the impressive Sheikh Zayed Grand Mosque.
This landmark has impressive number of more than a thousand of columns and 80 domes. Inside of the mosque, you can find the world's largest hand loomed carpet.
The capacity of the mosque is incredible 40 000 people. Another popular place is Corniche with its beach and waterfront.
Not to forget, that Abu Dhabi offers some of the most exclusive water sports and fun in the crystal clear and warm water of the Persian Gulf.
For history lovers, Abu Dhabi has several opportunities to explore the past through museum visits, exhibitions or various tours.
The typical atmosphere can be soaked in cafes with shisha or markets with some of the typical Arabic delights and sweets.
Abu Dhabi is a place where history and cultural heritages meets the modern life and development.
The Kingdom also famous as a the best shopping destination in Middle East.