Saadani National Park Safaris and beaches in one place in East Africa  this unique park on the east coast of Tanzania is a great place to visit for a short safari
A traveler will get to enjoy one of the rare chance in East Africa if not the only chance to to combine both safari and the beach. Saadani National Park is where the beach meets the bush.
This is the only wildlife sanctuary in East Africa to boost of an oceanic beachfront, it possesses all the attributes that make Tanzania's tropical coastline and islands so popular with European sun-worshippers.
Yet it is also the one place where those idle hours of sunbathing might be interrupted by an elephant strolling past, or a lion coming to drink at the nearby waterhole!
A traveler gets to relish the palm trees as they sway in a cooling oceanic breeze. White sand and blue water sparkle alluringly beneath the tropical sun, Saadani National park is a splendid place to visit.
Traditional dhows sail slowly past, propelled by billowing white sails, whilst Swahili fishermen cast their nets below a brilliant red sunrise.
The park is in the Southern Circuit which is the most untouched natural resources of Tanzania,  off the beaten track, away from the crowds of tourists and the sound of other safari vehicles.
Here a traveler will find prolific wildlife unscathed by human interaction where the night sky dazzles with millions of stars, and a part of the continent which is untouched by time.
It is located on the north coast, roughly 100km northwest of Dar es Salaam as the crow flies, and a similar distance southwest of the port of Tanga.
The park covers an area of 1,062 sq. km. The park is generally accessible all-year round, but the access roads are sometimes impassable during April and May wet season.
The best game-viewing season is in January and February and from June to August. The climate is coastal, hot and humid.
Saadani national park offers a unique combination of both marine and mainland flora and fauna in a culturally fascinating setting.
About 30 species of larger mammals are present as well as numerous reptiles and birds. Besides many aquatic  species such as  fish, Green turtles, Humpback whales and dolphins also occur in the ocean nearby.
The park was gazetted in 2005, it encompasses a preserved tropical ecosystem including the former Saadani game reserve, the former Mkwaja ranch area, the wami river  as well as the Zaraninge Forest.
Before being included in the national park, the Zaraninge Forest was managed by the World Wide Fund for Nature (WWF) whose goal was to preserve the extremely high Bio botanical diversity of one of the last coastal rain forests remaining in Tanzania and in the world at large.
Saadani National Park – ATTRACTIONS 
There are some of the activities that can be done in Saadani national park considering the idea of the bush meeting the ocean.
Some of them are; game drives, guided walks, boat trips, swimming and visiting the Saadani fishing village, which lies within the reserve, where a collection of ruins pays testament to its 19th century heyday as a major trading port.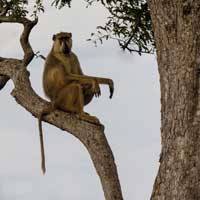 How to get there – Information 
The national park is in the vicinity of saadani village, roughly 45 km north of Bagamoyo. Dar es Salaam is at about 200 km away from Saadani village (4 hours' drive via Chalinze).
From the North you can reach Mkwaja Headquarters from Tanga by crossing Pangani River with a ferry (75 km / 3 hours' drive).
From here it will be another 35 km to Saadani village. Zanzibar is about 40 km away from the Park. Transfer by airplane can be arranged to Mkwaja or Saadani airstrip.
There is also a daily bus connection between Dar es Salaam and Saadani village, as well as between Tanga and Mkwaja village.
In the rainy season (March–April), the muddy roads can make travelling in the southern parts of the Park very difficult. It is advisable to inquire about the quality of the road before planning a trip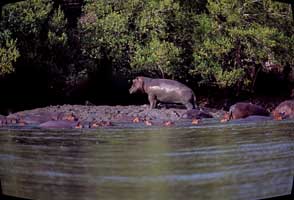 ACTIVITIES AND THINGS TO DO – Info
Beach holidays
Beach holidays are one not to miss once in saadani national park. Aside from the indian ocean beachfront in the park, further inland, the Wami River is the most important freshwater source besides numerous temporary rivers and dams.
The marine extension of the park includes the Mafui sandbanks, whose colorful coral reefs are important breeding sites for many fish species.
At low tide the sea retreats up to 100 meters and forms a convenient passage for local people and wild animals.
These beaches are the only place North of Dar es Salaam where sea turtles still come to lay their eggs. The most common species is the Green Turtle, the largest of the hard-shelled sea turtles.
Besides nest thieves on the beach, turtles are particularly threatened by commercial fisheries and water pollution.
Thee evergreen mangrove trees grow in the transitional zone, just above the mean seawater level.
These salt tolerant tidal forests provide a resting and feeding place for many bird species, bats, monkeys, hippos and reptiles. Numerous species of fish or prawns also lay their eggs in these protected habitats.
The high demand for the resistant mangrove wood leads to over-exploitation, making the protection of these forests even more important.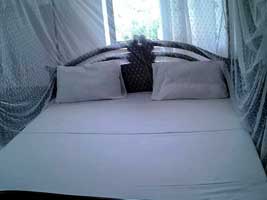 In Saadani National Park, large mangrove forests grow along the Wami River. This is also the place where large groups of hippos can be observed. At night they come ashore and wander inland, grazing up to 40 kg of grass per animal. The Nile crocodiles also live here, some of them reaching 5 meters.
The Wami River is also a good place for watching birds such as kingfishers, fish eagles and many species of wading birds.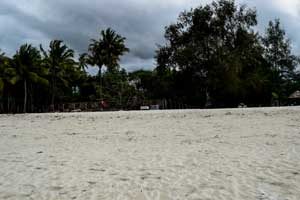 Boating and canoeing
Boating and canoeing through the rivers, ocean bays and waterways of Tanzania can be an exhilarating experience for a traveler.
River boating can take you past sleeping crocodiles and hippos sunning themselves with their mouths wide open, gathered in half-submerged herds.
Taking to the water is also a welcome break from the all-day enclosure of a traditional vehicle safari, allowing visitors to experience the sights and sounds of Africa's waterways up-close and unhindered.
In saadani, boat trips on the mangrove-lined Wami River come with a high chance of sighting hippos, crocodiles and a selection of marine and riverine birds, including the mangrove kingfisher and lesser flamingo, while the beaches form one of the last major green turtle breeding sites on mainland Tanzania.
In Saadani National Park, it's one of the rare wildlife ecosystems where a traveler can enjoy safari offers with incomparable wildlife viewing experience with an ocean frontage.
Game viewing is done by boat along the Wami River which hosts a remarkable number of hippos, crocodiles and different species of water birds.
The boat ride brings visitors closer to these creatures more than how it could be in other game viewing option.
On Tanzania's large freshwater lakes, boats are a popular means of transport and offer visitors the chance to see life in and around the waters, the fishermen bringing in their catch, the bustling colors of the lake shore towns and the sharp movements of small fish in shallow waters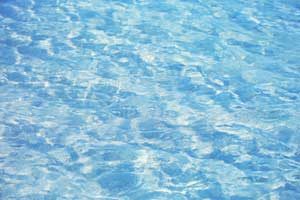 Game drives – Information 
Although Saadani national park is not suitable for game drive due its vegetation covers, in the few open areas where a four-wheel drive can make its way, a number of interesting wildlife can be seen including; the african lion, leopard, elephants, hyenas, jackals baboon, vervet monkey, bushbuck, warthog, hartebeest, giraffe among others.
Reedbucks are so ubiquitous in Saadani National Park like impalas in most Tanzania parks. Due to its topography Saadani boast a variety of bird life in which a tourist can enjoy and they include the glossy ibis, hammerkop, palm nut vulture, and lots of the magnificent lilac-breasted rollers.
Unquestionably, the best feature of the park is the beach which after safari one can go for a boat safari and relax.
In Saadani, elephants are relatively shy and usually hide during the day in woody parts of the Park. Leopards also occur in dense bush and thickets. Seldom seen, these animals are mainly nocturnal and can live in close proximity to humans.
Other showy animals living mostly in woody areas are the Greater kudu and smaller antelopes such as Suni and Duiker while the crowns of the trees are inhabited by Colobus monkeys which, unlike most other monkeys, subsist mainly on leaves, strictly nocturnal bush babies, as well as many fruit-eating bird species, insects and butterflies.
A surprisingly wide range of grazers and primates are seen on game drives and walks, among them giraffe, buffalo, warthog, common waterbuck, reedbuck, hartebeest, wildebeest, red duiker, greater kudu, eland, sable antelope, yellow baboon and vervet monkey.
Herds of up to 30 elephants are encountered with increasing frequency, and several lion prides are resident, together with the leopard, spotted hyena and black-backed jackal.
Typical inhabitants of the tall grass savannas are the buffalo, which weigh up to 850 kg. Several herds of Lichtenstein's hartebeests can be observed grazing in Saadani National Park.
The common waterbucks occur all over the Park area. Weighting up to 270 kg these grazers can be easily recognized by the white ring around their tails.
The density of Bohor reedbucks is especially high in Saadani National Park, although this medium-sized antelope (45 kg) might be difficult to spot in tall grass where they lay down for shelter.
Warthogs are also omnipresent and even come into Saadani village. As most of the villagers are Muslim and avoid pork, they have learned that they will not be harmed.
The Park is also known for its numerous giraffes, the national symbol of Tanzania and tallest animal in the world.
Their tongues have special callus plates which make them particularly well adapted to browse on spiny acacia trees.
Large herds of White-bearded wildebeests also graze in the short grass savannas.
They were released in the area in the 1970's when the Game reserve's zoo, for which they were initially imported from northern Tanzania, was closed. Other introduced species are Plain zebra and Eland
The Lion, the largest of the African carnivores, is also found in Saadani, although it is rarely seen.
At night you may also hear the hyenas and encounter genets, porcupines and civets. Other species which can be observed within the perimeter of the Park are Bushbucks, Bush pigs, Yellow baboon or Velvet monkey.