Padjelanta National Park, the very northern part of Sweden is a gorgeous place with unspoiled nature – that is the known fact. And as such, it is an area with many breathtaking National Parks. One of them is also the Padjelanta National Park (Padjelannda means "the higher land" Sami language).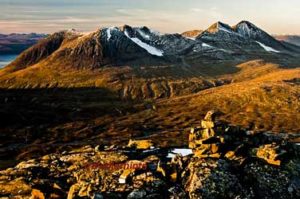 Padjelanta is the largest National Park located on the Swedish land and it spreads across the area of nearly 2 thousand square kilometres.
The Park was established in 1963 and since 1996 it also forms a part of the Laponia UNESCO World Heritage Site. It is also situated nearby the Norwegian border.
Padjelanta is home to three Sami villages – Sirges, Duorbun and Jåhkågasska. Those are all a perfect showcase of traditional settlements and the old way of reindeer herding.
The landscape of Padjelanta National Park is mostly alpine with extensive lakes and broad plains.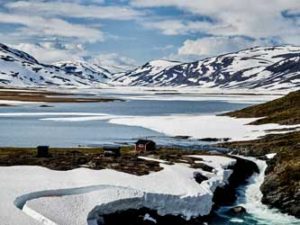 As the contrast to the wide and relatively flat area, there are Sarek Mountains towering in the distance. There are two large lakes situated within the Park's borders and those are Virihávrre and Vastenjávrre and several smaller ones, shaping the stunning landscape.
Some people refer to the first mentioned one as "the most beautiful lake in Sweden", and it would be hard to find any argument against that.
There is a 139 kilometres long trail going through the park – the famous Padjelataleden (or also Padjelanta Trail). If you are up to the challenge, it will take you from a week up till 10 days to conquer this well-known hilly hike.
Most of the facilities along the way are provided and maintained by huts in Sami villages. There are also huts at the beginning of the trail and a hostel called Kvikkjokk at the very end as a final place to rest your tired limbs.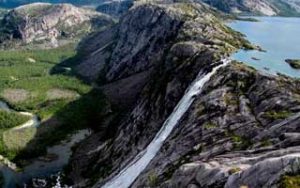 Padjelanta Trail belongs to one of the most fascinating ones, mostly thanks to the enchanting surrounding nature and the incredible views of the Sarek Mountains all along the trail.
The trail is to be hiked during summer months. For hiking in winter, it is highly recommended to hire an experienced guide due to the tough weather condition and long duration of the hike.
The park and its Sami villages are famous for Sami residents and their reindeer. Apart from reindeer, the wildlife of the Park include also elk, arctic foxes or wolverines as well as many bird species typical for the alpine region, such as snow owls, dotterel or the long-tailed jaeger.