Bohemian Paradise (exact translation from Czech Český ráj) is a protected area in the Central Bohemian region, situated north of the capital city of Prague.
Bohemian Paradise is a unique place containing several natural beauties such as surprising landscapes, breathtaking rock formations or deep forests, as well as   mad made beauties in form of gorgeous castles and ruins or picturesque villages.
Bohemian Paradise The History 
Bohemian Paradise is the first Geopark / nature reserve declared in the Czech republic in 1955. Initial 95 square kilometers slowly expanded to today's more than 180 square kilometres of protected area.
There are no exact borders of this area, however several towns including Mnichovo Hradiště, Jičín or Turnov constitute an approximate border line.
Among most popular place in Bohemian Paradise belong for example The Rock Town (Hrubá Skála) rock formation and its beautiful chateau on the top of it;
Trosky Castle ruins with its two impressive peaks which both used to be active volcanoes back in the time; the magical Kost Castle (Bone in translation) with sandstone rocks and surrounding forest; Valdštejn Castle which is the oldest in the area;
Prachovské Skály (Prachovské Rocks) which is a stunning complex of narrow cracks and paths between rocks and extraordinary views from their tops.
Some other tourist attractions include the Sychrov Castle, a French chateau masterpiece which used to be home for the Rohan family.
The smaller city of Mnichovo Hradiště is home to the Baroque chateau of the same name which was a residency of Albrecht von Wallenstein, famous Czech warlord during the Thirty Years War.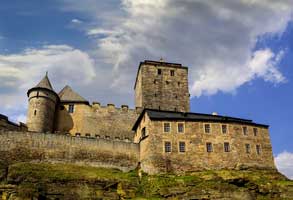 The entire area is perfect for weekend trips, camping adventures and it provides a paradise for all outdoor lovers.
Bohemian Paradise offers extensive number of walking and hiking paths and cycling trails.
You can enjoy exploring the history, conquering the nature or simply bask in the beauty of this unique place.
Get your Direction Here