Ras Kutani is a very popular tourist destination as well as peaceful lodge built overlooking a small lagoon and long white sandy beach.
This magnificent structure is left for a traveler to relax and enjoy.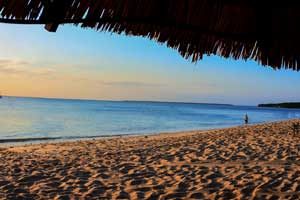 The thick unbitten sandy paths lead through the coastal forest to fifteen pretty cottages, constructed of wood and makuti thatch, the place has a very natural feel to them.
Set in amongst natural forest, running right up to the deserted and untamed beach, the lodge "emerges" out of the trees and almost feels part of the nature here.
It is completely normal to wake up to find a troop of vervet monkeys wandering around outside your room, curious to see what you are up to.
It was once possible to even see elephants in the surrounding areas, occasionally wandering down to the ocean to wash, but they have migrated to unknown places in recent years.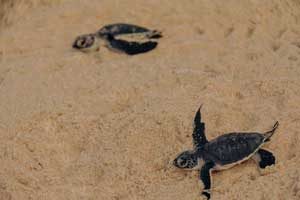 There are large verandas with hammocks, big bedrooms with wardrobes and large beds with sweeping nets. The en-suite bathrooms have basins and showers with plentiful of hot water.
Some rooms overlook the beach, others sit on the edge of the lagoon and the suites and family room are further up the hill with stunning views of the turquoise ocean.
Food is very good at Ras Kutani and the chefs pride themselves on fabulous seafood dishes. There are fresh mangoes for breakfast, light salads for lunch and generous three course meals in the evening.
A traveler can always enjoy the amazing views from the dining room which overlooks the beach and lagoon and has an adjoining bar and lounge with plenty of cold drinks, books and board games after meals.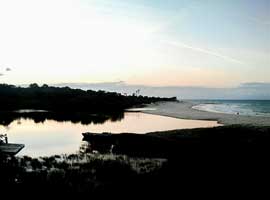 Ras Kutani is an ideal place for really relaxing.
However, if a traveler wishes to be a little more active, one can always ramble along nature trails or along the beach or take one of the lodge's kayaks for a paddle in the lagoon.
A masseuse is on hand to rub away your aching muscles from a long-haul flight or safari.
It is recommended to spend some time snoozing under the comfort of the makuti palm shade on the beach – a perfect getaway to any safari!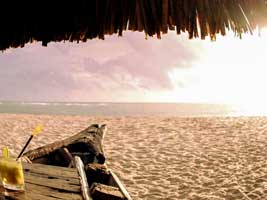 Ras Kutani – HOW TO GET THERE
The lodge is set just 15 minute flight down the coast from Dar es Salaam and daily local operating flights fly to this place, and just a 2 hour drive if a traveler decides to take a road trip there.\
This is the perfect place to start or end a trip to Tanzania.