Entre-deux (between-two)is a little picturesque creole village set in a green setting in the heights of the island.
Entre-deux gets its name from the fact that it is situated between the two main tributaries of the Saint-Étienne River: the Bras de Cilaos to the west and the Bras de la Plaine to the east.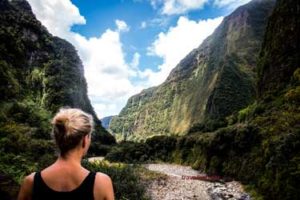 The bridge giving access to the village is crossing the bras de La Plaine river which is one of the deeper gorges of the island so you should stop and have a look at the view from this bridge…
The village is labelled "Village créole" as a recognition of its authenticity and preserved living environment. This label has been created to set a network of villages to help them promote an alternative way of discovering La Reunion by meeting with locals and  discover an unspoilt nature.
In the village, you will be able to discover some unique handicraft such as choca fibres weaving (the choca is a kind of succulent and same family of the aloe vera) or turtle shell jewels making (they use the shell pre-convention, so prior to 1984,from animal husbandry « Corail Farm » in St Leu as it is now forbidden to buy shell. Therefore, this art is vowed to disappear).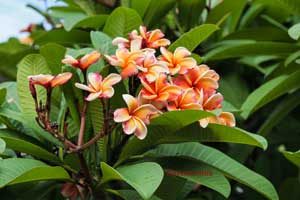 Not only is Entre-deux a nice village with loads of handicrafts, but it is also a great playground for sport lovers, be it beginners or experts :
Four-wheel drive excursions to explore a "noir marrons" campement
Canyoning, at Bras de Pontho, Ravine citron
Paragliding : Take off from Le Dimitile at 1800m high and see south parts of La Reunion with a bird's eye!
Hiking

: As anywhere in La Reunion, trails are set for you to discover the island in all it's splendor. One of the most famous walk nearby, is the "gorges du bras de la plaine" (the gorge of bras de la plaine).                                  It is an easy walk where you can reach the bottom of the gorge  and take a dip or keep going to reach Bras de Pontho on the other side. Along this walk you will cross the river and see basalt organ along the way. If you want a bigger challenge, Sentier "Le zébre – Dimitile" would take you on a 6.5hours walk through a forest then the rim of the mountain and discover unique panoramas!