Last updated on June 4th, 2017 at 10:00 am
Traveller Personal Hygiene regardless of how much we might want to deny it, when it comes to backpacking, hygiene is something that usually comes little bit to the side track.
Among other things such as sleeping bag, basic clothes, water, repellent and other essentials needed for survival, there is not that much space left for shampoo, conditioner, hair spray, essential oil, face toner, peeling, scrub, make-up, three different creams and fifteen other basic products we might be used to put on our face, body & hair during normal circumstances inside of the comfort zone of our apartment at home. During backpacking, there are more important and interesting things to deal with that slightly greasy hair and dry skin and honestly speaking, shower every day is sometimes more of a luxurious wishful thinking.
Is Traveller Personal Hygiene  important? Hygiene is the undeniable part of travelling which might be difficult to come to terms with at first, but is fun to talk about later on. Stories such as "Remember when we didn't take shower for a week..?" are always fun to brag about. Though the way how to maintain the feeling of relative freshness is a task to be dealt with individually, depending on a person, there are always some useful tips and suggestions on the topic, you might want to consider. Sometimes, you are left to the mercy of nature, accompanied only with a tent and content of your backpack with no running water whatsoever anywhere around.  In such case, the backpack content better be useful.
When it comes to hard-core packing and you simply can't be bothered with heavy weight on your shoulders / or you are limited by a super small space of a cabin luggage (+ liquids restrictions), there are 4 items I never ever leave without:
Traveller Personal Hygiene Essential list 
Dry shampoo,

even though it does not substitute the water + shampoo combination for good, it is a perfect short-term solution for outdoor environment for those who need to wash their hair on a regular basis and do not want to look like they poured a bottle of oil on their head.
Wet wipes or moist towelettes:

 
perfectly alternate to bathing when needed and can remove a lot of dirt and sweat to make you feel little bit more like a human again after a long day hiking in the nature wilderness.
Toothbrush:
is a total must have. Doesn't matter if a travel-sized option or the ordinary one, you can always find a spot to squeeze this life & breath saving invention.
Deodorant, however, more for a personal feeling than for the actual freshness or hygiene whatsoever. Deo is rumoured to be the top essential every backpacked necessarily needs to have, even though insect loves it even more than backpackers do. So be careful and use wisely & with moderation.
Apart from the above must have items, following tips and products should also be considered when the space allows:
Shampoo – because it is more acceptable to wash your body with a shampoo than to rinse your hair with a shower gel. Pour a shampoo into a 100 ml travel container and you are ready to go anywhere, even with a cabin luggage.
Lip balm – small, light and comes in handy any time.
Hand sanitizer – because bacteria and germ are everywhere thus it's smart to clean your hands before you eat and once upon a time.
Body lotion/cream – in a travel-size, indeed. Spread a thin layer on the dry skin on your feet before you go to bed to prevent the painful heel-cracks after having your feet locked inside your shoes the whole day.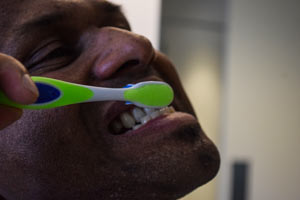 Travel-sized stuff in general – there is no need in carrying full size bottles of shampoo, toothpaste and other hygienic essentials. All of those can be easily purchased in a travel-size packages or you can simply buy your own small bottles/containers and fill it up all over again.
Traveller Personal Hygiene  list and last but not least (I am talking experience here), it is always a useful thing to have a small amount of sunscreen to protect the most exposed parts of your skin from unwanted sunburn, especially face and shoulders. Better be safe than sorry, because burn skin and red face are not worth it.
Written By Veronika Tomeckova