Trolltunga in Fjord National Park is indeed a natural cliff in Odda in Norway. It inspires the hikers and calling it a great model of Scandinavian nature would be appropriate and would be a statement which does nothing but justice to it. 
This marvellous natural hiking cliff lies at an altitude of about 1100 metres. It is special as it is adorned with a panoramic view above 700 metres with its bluest of water lake Ringedalsvatnet.
Trolltunga hiking track and the cliff are among the most beautiful natural attractions in Norway. The cliff is one of the most enticing cliffs a clad in inexpressible scenic beauty.
As it is located 1100 metres above the sea level, it hovers 700 metres above Lake Ringedalsvatnet. I am a person with firsthand experience about this place. I was lucky enough to spend a few weeks in Norway and was able to finish a few hikes in 2018.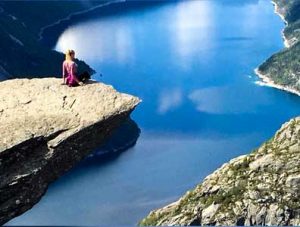 The view is so eye-catching that I stood there stock still, and petrified drunk with its breathtaking beauty. The hike begins in Skjeggedal area and its meanders  & Rocky through mountains which are greatly high.
The hike needs ten to twelve hours and it covers 27.5 Km to Trolltunga and returns. It has an interesting and breathtaking ascent of about 1000 metres.
Let me express my own sentiments about it. Well .. the feeling I got at the end of this excursion was that it was a long and demanding hike.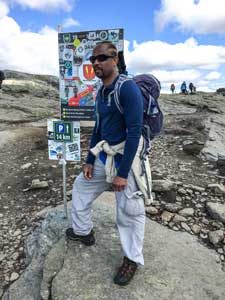 The trail from the car parking lot in Skjeggedal to Trolltunga is so clearly marked. It is not difficult to engage in the hike.
As you continue with the hike you are supported by the signs that indicate the length of the rest of the hike to Trolltunga.
The high is really not difficult but the distance is a bit demanding though adorned with natural scenic beauty throughout.
If you ask me to express my personal opinion about this hike, I would not hesitate to call it a hard one at all. However, as I mentioned earlier it has a long walk.
Well, it is just a matter of taking your own time and moving up at your own space slowly yes, as slowly as you could because you have to complete it after feasting your eyes on the natural beauty that you pass by as you move forward in the trail.
Some hikers who take up this natural trail exerting the ability of their physique are over 65 and they do it as if it were no difficult activity. Oh, they are hail and hearty. Bless them!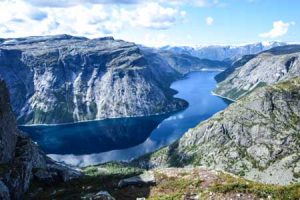 You get the assistance from a mobile coverage along the route. This courage is partly though. The mobile coverage is called 'Telenor'. To do this hike quite possibly you should choose mid-June as the best suitable time.
This really depends on the time the snow melts in the mountains. Generally, it is advisable to take up the hike Trolltunga Track from mid-spring to mid-Autumn in Norway. ( Global warming can be the heavy impact on hiking Season) 
The weather in Trolltunga is subjected to great changes in no times. For your own safety and convenience use the latest weather forecast prior to your plans to hike in Trolltunga.
We advise you to refrain from hiking to Trolltunga in strong wind, heavy rain or in foggy weather. In fact, you experience colder weather in the mountains than down by the Fjord National Park.
Make sure you show your respect for nature. Then there is every reason to believe that you will find yourself in a fine self.
True it is that annually they experience the occurrences like getting lost or getting an injury. As a result, there have always been rescuing operations for hikers' redress.
However, the excitement that thin hike gives does not litter the enthusiastic souls from seeking its thrilling experience.
Ample preparedness and responsible action and demeanour guarantees than you will end up being a successful hiker who has achieved success in the hike.
Wow! Ending it with sort of a sense of getting big hugs and kisses. I advise you to start your hiking expectation early in the morning. Norway is located in the far north has limited short daylight hours.
It is short from September and its nights will make you experience very cold weather conditions. How should I put forward my idea about the time to start the hike?
Well, say you start it as early as 8 a.m. in the morning. That would really be a very prudent decision to make.
When to Hike Trolltunga –  Best Time of The Year
It really depends on snow and weather conditions the season is subject to changes and vary from year to year.
Mid or later is of June – Mid or later 15 September. This is the average recommended season.
16 September – 28 October. Norwegian Department of Emergency recommended this period if you get the service of a good guide only.
End of October to Mid February. Norwegian Department of Emergency does not recommend hiking Trolltunga for it is highly dangerous. There is snow, strong wind and the ground is slippery and you can not see the track signage.
If you choose winter hiking and sports we strongly reiterate the use of a capable guides service.
If you find that more information is necessary for you do not hesitate to contact Odda Tourist Office to get a detailed account about the hike and safety measure to take prior to even planning this hike.
---

Packing Hints Before Your Hike
When you find yourself in Norway you have to bear in your mind that all activities to do with nature are to be done at your own risk. You are responsible for your safety though you are assisted by the guides to do so.
Sturdy hiking boots are a must to engage in the hike. You should also pack extra warm clothes and rainwear. Then you need to experience bad weather.
You are advised to have with you fruits, starchy ford some food containing proteins and also necessary drinks with extra energy. (Smork Salmond is a great way to obtain your protein need)
Then comes the necessity to have a first aid kit and a reliable torch. The amount of water to be taken with you is a minimum of 3 litres let me be sincere and tell you frankly that there is natural water at the top of hills in plenty and you could quench your thirst from it.
That would be caressing sort of experience to get from nature if you are a being who is continuously exposed to a busy city lifestyle teaming with hustle and bustle.
Do you want to experience spending a night in the mountain area around Trolltunga? Then you should bring your own tent kit.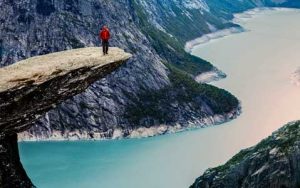 Guided Tours in Trolltunga
Now that you have heard enough about the things to engage yourself in, in Trolltunga, you might find it useful and helpful if I guide you on how to get safe guided tours here in Trolltunga.
There is the presence of adventure companies. One such company is Trolltunga Active Company and Trolltunga adventure company.
They offer you the best and the most experienced and capable tour guides. Be intelligent anyway as, in my opinion, it is necessary to spend that much of money to see and feel nature.
Your safety without experiencing any risks really matters and guided tours with expert guides is a necessary evil, though.
Hiking, In the Hardangerfjord Region – why not look at a set of other breathtaking hikes at Hardangerfjord hiking highlights.
How to Get to Trolltunga
With private car or caravan
Get from Odda to Tyssedal town. You might wonder what Tyssedal is like. As you can see, it is a small town that comes before Trolltunga hiking point Skjeggedal.
Please Note if you take a caravan. The park for caravans is separately run before you get to Skjeggedal starting point of hiking. In fact, it is nearly 6 km from the hiking point.
In Tyssohallen in Tyssedal and it has the capacity for parking cars as well. The other important thing about it is it is cheaper gas prices are really low.
There is the availability of 2 car parks at Skjeggedal. One of them is on the right. It is indeed near the starting point of the hike.
The second car park is called the upper car park. Its available capacity is limited just for 30 cars. If your choice is the upper car park there is one thing that you have to do.
You have to drive there as early as you can during summer. Yes, it is nearly impossible to acquire any parking space after 7 a.m.
What about the cost of parking?
If you choose to park in a parking lot in Skjeggedal it costs you 300 NOK for 12 hours and it costs 600 NOK for 24 hours.
The parking cost at a parking lot by Tyssohallen in Tyssedal costs you 150 NOK for 24 hours. This park is located 6 km from the trailhead.
If you have a valid reason to choose a parking lot in somewhere other than Trolltunga in the exorbitant charges they charge as parking charges.
More Information About Upper Parking
The parking capacity at Topp is only for cars and it is 4.5km from Skjegget in the direction of Trolltunga. It has a narrow private road with sharp turns.
There is also 400 metres to a second. If you are in the service of experience drivers a 4 wheel drive is highly recommended. The available maximum car height is 2 metres. They do not allow caravans and motorcycles.
Why Should Travellers Stay in Tyssedal?
Here is my advice. The options for good accommodation like in hostels and hotel are not many in Tyssedal town which are 6 km away from Odda. But they are really nice. That is to say, your choice of accommodation is Tyssedal is well recommended.
This helps you get up early morning and if you are in the possession of a car, drive up to the first car park in Skjeggedal.
You can park here and take a shuttle bus to next level. This will help you to reduce 1.5 to 2 hours of hiking. The shuttle bus service is the only option to take and if the bus service is not available you have to walk back.
If the bus is there well and good you are able to take a bus and get to the car park and here your starting point can be done by spending any money for the start.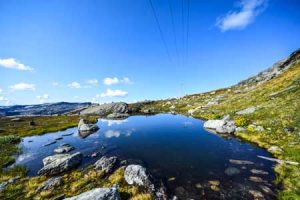 Well, there is no better place other than this guesthouse to stay before your hike starts. Here you get the best of offers by way of prices, clean room and wonderful space in a dormitory and also you can obtain private rooms if you choose to do so. It takes a few minutes to walk to get to the supermarket from there.
With Public Transportation
Between Odda and Skjeggedal – ( the starting point for the hike)
The option for public transportation is there, especially for backpackers. Anyway, I should bring one thing to your attention. That is public transport is not very good here in Norway.
Trolltunga Shuttle Service begins (15 June-15 Sep) trying to aim at being of service to travellers. There are pickup facilities granted by the people who are involved in providing accommodation in Odda. Skjeggedal NOK 250. You can get tickets online or some information services for tourists.
Travel from OSLO
The availability of options is few. They may possibly change in the future, though. So almost always browse the web and check for the most current services.
Train Oslo – Voss Bus Route 990 Voss – Odda
There is no booking facility- You have to pay cash only.
From Odda – From Odda which is just a few kilometres to the Skjeggedal a shuttle bus offers you its services from where you have got accommodation.
This has a fixed timetable. However, there is a possible changeability of timetable accordingly and we advise you firmly that you make use of the websites and learn about every change they make.
Odda Camping 06.10, 07.35
Trolltunga Hotel 06.15, 07.40
Odda taxi stand 06.30, 07.05
Trolltunga Studios (bus stops at Freins) 06.30, 07.50
Tyssedal Hotel (bus terminal) 06.35, 07.55
Trolltunga Guesthouse (by the bridge) 06.37, 07.57
Tysso Hallen Car park 06.40, 08.00
Skjeggedal
Skjeggedal 17.00 , 18.30 , 20.00
Public Bus Service: Route 995, www.skyss.no ( no booking, cash only)
Travel from Stavanger and Preikestolen
Coach Service Trolltunga – Preikestolen Express
(during the time with an influx of multitude of travellers)
Stavanger – Tan – Røldal – Odda – Tyssedal (Book available online)
Travel from Bergen – This is a bus service. There is no need to book and they accept cash only right now. Be continuously in touch with the website for latest bus route 930 Bergen – Odda.
Coach Service called ' Haukeli Ekspress' Operates from Oslo-Odda ( can book online)
Trolltunga other facts regarding Hiking
Cost of Hikking 
Let take the cost you have to incur here in Norway into consideration. In fact. Norway may be expensive to you if you work and earn as a country belonging to other parts of the globe.
Timing
Why is the time a key factor to pay attention to? Well, travelling and hiking are time-consuming activities. So you need to get ready to spend ample time for your holiday activities.
It is not like travelling on the roads in a city. Here nature is a vital factor anyone should make much of the pleasure nature can offer you during your visit to Trolltunga in Odda, Norway.
Do not expect the standards of Europe or America in the transport facilities here in Norway. Well .. definitely you cannot expect fast transport here.
As you plan your trip in each of your destinations, plan it in such a way as to keep your extra time so as to balance with the time you have lost.
Let me call Norway an enjoyable country. You should have friends, groups or a partner. The natural surrounding the landscape that is interesting is also attractively romantic.
You see mate, you've gotta make much of your visit to Norway and Trolltunga is the location of excitement feelings. Bye!
More Travel Blogs Here