Top surfing in Australia, when you mention Australia, the first thing that pops up in heads of many people is a picture of a stunning, long stretch of white sand, as far as an eye can see.
And Australia has many, one more beautiful than another, making it hard to chose.
But there would be something wrong not mention the miraculous and addictive wooden invention called surfboard.
Though it was not Australians who brought this sport to the world, Australia is widely recognized and praised as one of the world's leading Top surfing destinations for surfers with the perfect combination of wild ocean, first-class waves and unspoilt beaches.
The pristine coastline of Australia offers genuine surfing paradise all year round from east to west, and the south-east located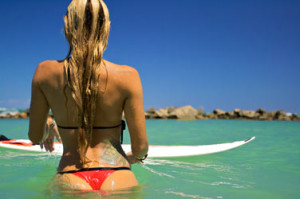 state of Victoria means no exception. Despite the capital city itself, Melbourne, might not be the best destination to indulge yourself in wild and foamy waves, there is plenty of premier beaches only within short reach.
is a unique, place in Australia– class destination among surfing communities, with a rich surfing history in Victoria and a wave for all kinds of weather and abilities.
Some breaks are significant because of the exceptional waves and swells, and others for their history, location and importance in providing safe breaks for teaching the surfers of the future. Phillip Island is also special for Australia Aboriginal and environmental values and all surfers must play a role in protecting these magnificent Island.
Top Surfing: Summerland Beach on Phillips Island
This Beach historical birthplace of surfing on Phillip Island, dating back to the 1920s and it's iconic spectacular reef breaks that work in the largest of swells of the ocean.
Summerland Beach has historical value of surfing on Phillip Island dating back to the 1920s and is also home to the world– famous little  Penguin Parade just after sunset each day.
 Summerland has been surfed since the equipment development allowed it. The point is generally suited to longer boards and mals. The reef break to the western end of Summerland Beach of the island, known as 'Centre–Break' is a quality low tide wave that was originally bodysurfed and then became a favourite with modern shortboard surfers and highly recommended.
Top Surfing: Recommendation
Summerland has two reef breaks that work well in the wintery conditions of big swells, high tides and strong north-west to southwest winds – when other Phillip Island waves are blown out.
It is a fact well known, without any doubts, that the Mornington Peninsula is a spectacular location with a great mixture of natural wonders.
This popular wine region, situated slightly more than one hour drive from Melbourne, is home to a stunning coastline, excellent golf courses, natural hot springs, beautiful vineyards and plenty of fantastic bushwalks and hiking trails.
But most importantly, Mornington Peninsula stands for a perfect surfing gateway, thanks to the back beaches offering some fabulous
ocean waves.
The Gunnamatta Beach might not be the easiest one for beginners, but it is probably the most famous beach for surfers in the area.
The Southern Ocean together with reefs craft waves into a respectable average height of 1,9 metres during the great-wind day, thus creating a fierce surfing experience for every experienced surfboard lover. The breaks are known to be very consistent and the best spot for catching a good one is said to be found directly behind the surf club.
Very similar to Gunnamatta Beach is the Rye Back Beach. This particular beach is, however, less known and therefore less crowded, allowing visitors to enjoy the unspoiled power of the ocean for themselves.
Portsea Back Beach: likewise the above mentioned, is rather a dangerous beach not suitable for beginners due to the high waves and rapid rips. 
The east of Mornington Peninsula is a place with the word class spot called Point Leo, a half kilometre long beach with fine, gentle waves – this time suitable even for less experienced surfers.
Thanks to the always perfect surfing conditions, the beach is also often used for various surfing events and tournaments. Apart from surfing, Point Leo is also a wonderful destination with a view over Phillip Island, which cannot be missed out.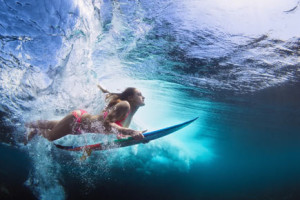 Great Ocean Road is a must-see or must-do for many reasons and surfing is definitely one of them. The small city of Torquay , located around 100 kilometres west from Melbourne, gained its popularity through this sort of wooden board.
Torquay often serves as the last point of the Great Ocean Road but most importantly, it is the cradle of surfing in Australia.
Back in 1956, the first-ever demonstration of surfing skills on the whole continent took place there and this water sport has attracted millions of tourist and surf lovers to the area ever since.
The legendary Bell's Beach is a world's top surfing beach nearby the city of Torquay and it's famous for many surfing events and competitions (including the annual, world famous and prestigious Rip Curl Pro surfing contest).
The 800 metres long beach has two main breaks (called the Bowl and the Rincon) which are exceptionally great during autumn and winter.
The Bell's Beach can, however, be a little bit dangerous for inexperienced surfers, especially due to its "Escalator" rip at the southern end of the beach and exposed reef, which may cause dangerous troubles.
Another beach nearby Torquay is the Fairhaven Beach. This 6 kilometres stretch of sand is the longest beach on the Great Ocean Road.
Despite some possibly dangerous currents, the beach offers excellent waves reaching around 1.5 metres on average. This popular place is patrolled by the Fairhaven Surf Life Saving Club all year round.
Lorne is another small city alongside the coast,(On Great ocean road) a little bit more south from Torquay. This particular area surrounding Lorne is like a buffet for surfers, offering simply everything for everyone.
Although less visited (and thus less crowded), beaches within the region have everything from gentle waves to fierce breaks and long-lasting surfing opportunities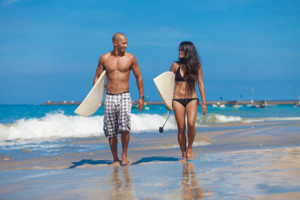 suitable for all levels of experience.
Closer to the city, the best surfing spots can be found at Airey's Inlet, Vera Lynn, Lorne Point or the Cathedral Rock, all with world-class wave quality providing some of the best surfing conditions.
Especially the Cathedral Rock can be seasonally more crowded and quite dangerous for unskilled surfers.
The Lorne Point, on the other hand, is a perfect beach for all, even those yet learning to become pros. Vera Lynn at the end of Point Grey Beach provides picture perfect right breaks.
And finally, the area around Airey's Inlet offers a number of beaches, each with a different character (going all the way to the Fairhaven Beach), making it a perfect holiday spot for all surfers.
The nearby Cape Otway, touching the Great Ocean Road, is, on the other hand, a place with beaches presenting wild and fierce ocean waves and rocky cliffs (including the stunning Johanna Beach), which represents genuine paradise for truly experienced surfers.
Written by Veronika Tomeckova 
Look Up Your Best Hotels Deal Here