San Andres is an archipelago located near Nicaragua in the Caribbean Sea. Composed by San Andres, Providencia and numerous islets. The main island, San Andres, may be small (approx. 26Sq km) but what it lacks in size is offset in beauty.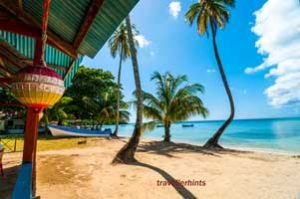 Indeed, lush green vegetation, palm-trees-bordered-beaches and pristine water are common sight there. Because the island was once English before becoming Colombian, it has a multicultural background and English, Spanish and Creole are all widely spoken throughout the territory.
The main city of the island called El Centro (or Northern End by locals) is a "tourist nest" without much charm as it's concrete over concrete. Like lots of tourist destination, life there is overpriced. Furthermore, make sure to avoid high season as the town is packed and prices explode. For more authenticity, prefer La Loma (The Hill) in the island's central region or San Luis on the eastern coast, both far less tourist-orientated than El Centro.
San Andres – WHAT TO DO
The San Andrés Island, which attracts a large number of visitors, has many places of interest and public transport will drop you off you nearby most attractions of the island.
Johnny Cay, also called Islote Sucre, is facing the Northern part of the island (opposite the airport). To reach it, you'll have to get a boat (approx. 15 minutes). The place is famous for its white-sand beaches and its relaxed lifestyle. A 15-minute-walk is enough to go round the cay.
If you want to avoid the very touristic (and often crowded) Johnny Cay, places like San Luis may do the trick. This small town on the East coast doesn't offer much to do "onland". The main interest of this area is the beach and great scuba-diving / snorkeling spots.
There is an old shipwreck rusting near the beach which gives an unusual view…
Cayo Bolivar is also a great option but is quite far from San Andres (28km away, roughly an hour by boat).
La Loma, also called "The Hill" is one La Loma is one of the traditional villages of San Andres.
This village is famous for its traditional "colonial settlers" architecture and especially for the Baptist church built in 1844 (and rebuilt in 1896 after that a storm damaged it).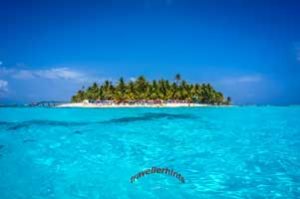 The other "attraction" of La Loma is its great viewpoint from the top of the town over the island and the sea. ½ a day is enough to visit the village. The bus ride from El Centro takes about 15 minutes to get there. If you have some free time, you can visit "La laguna Big Pond", that lake shelters iguanas, turtles, alligators (babilla), birds…
El acuario, also named Rose Cay, is a sandbank off the coast in the Southeast of El Centro. it's a great snorkeling spot with its hundreds of colourful fishes swim around you in shallow crystal clear waters (approx 1m deep). Just as most parts of the island, the place can be really crowded especially during weekends and high season…
Next to it, Haynes cay (or ilhota Cordoba) is one of the best places to snorkel when there aren't so many tourist but better avoid the place during high season! You can walk from El Acuario to Haynes cay as it's quite shallow between the 2 cays.
West View,on the West coast of the main island, is a favorite place for snorkeling, swimming and diving.
El Hoyo Soplador, located at the Southern tip of the island, is a geyser emerging from the sea which shoots up to a height of 20 meters. This phenomenon is noticed only at certain times of the year when certain conditions are met (wind, tide etc.) . It is also the center of an International Surf Competition held once a year.
Providencia, is located East from San Andres. Unlike San Andres, Providencia has kept its quaint atmosphere. Here, no luxury hotels or nightclubs, inhabitants have fought really hard to keep it that way! The island is linked to the third island of the archipelago, Santa Catalina, by a wooden bridge. The island is a good place to unwind as it is less touristy but as beautiful as San Andres.
The Peak Forestry Reserve : is a Regional park since 2007. The Peak is home to native plants and wildlife (such as iguanas)and a stopover for migratory birds. After a hike in the dry forest to reach the top of the hill ( 360m above sea level), indulge with a breathtaking view over Providencia and the Caribbean sea.
El Parque Nacional Natural Old Providence McBean Lagoon, Located on the North-East coast of Providencia, is a mix of ecosystems such as tropical dry forests, mangrove forests, coral reefs,and sea grass.
Crab Cay (Cayo Cangrejo) which is located in that park is a must see as you will experience snorkeling with turtles or/and rays and hundreds of fishes.
While hiking on the hill, watch for birds, bats, and lizards as they are countless over there, the park being a breeding area. Furthermore, the view from the top of the hill is glorious. The mangrove can be visited either walking through trails or kayaking. Please bear in mind that there is an entrance fee for the park (17.000COP).
Southwest Bay is a beach where travelers enjoy a relaxed atmosphere with feet in the sand, colorful huts  and sea around with reggae tunes in their ears. To complete the experience, there are good restaurants that serve dishes with lobster, fish and some coconut rice.
Between April and June, thousands of black land crabs are hurtling down the hill at dusk to lay their eggs in the sea. After a few day they will climb up their way back. Not all of them will return though… black land crab is often on the menu as a local delicacy, cooked in coconut milk… During that period, certain roads are closed to give them way.
Buy your Camera and Travelling gear here 
Santa Catalina is right next to Providencia and the two islands are linked by a cute colourful wooden bridge (El puente de los enamorados ) which is one of the attraction of the area.
Fort Warwick – later called Fuerte de la Libertad is a remembrance of the piratery past of the island. Constructed in the 1600's when Henry Morgan, an English pirate who was buccaneering in this area during the 17th century, overtook Providencia and Santa Catalina. Below the fort, a stairway leads to a beach and to a trail which leads to "Morgan's Head" (Cabeza de Morgan) on the western end of Santa Catalina.
Morgan's Head is a natural formation carved by wind and waves into a human face. You can also spot it during boat tours around the islands of Providencia and Santa Catalina.
Search your flights here 
San Andres – HOW TO GET THERE / AROUND
San Andres : Being a very touristic place, both for foreigners and locals, it's very easy to get a flight from major cities of the country (Cartagena, Bogotá, Cali, Bucaramanga, Medellín etc.). You can also fly there from Panama and Costa Rica. LATAM, Avianca, Copa, Satena and Searca Airlines.
Once on San Andres, the bus network is an easy way to travel around. For more freedom, scooters or bicycles can be rent.
Providencia / Santa Catalina:
To reach Providencia you have to depart from San Andres either by boat (Catamaran Sensation; 3h) or by plane (Satena and Decameron's affiliated airline Searca; 20min). Cruises can also be an option as they travel through differents destination in the Caribbean sea.
Local transportation on Providencia is not as efficient as in San Andres. Best is to rent a bicycle or a scooter.
Book your best hotel deals here