Joksula Loni, Located at the base of the Vatnajökul glacier and within Vatnajökull National Park, Jokulsa Loni provides one of the most beautiful viewpoints in Iceland.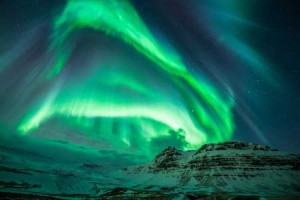 Widely regarded as possibly the best Northern Lights viewing point in the country, Joksula Loni is the perfect place for photographers, whether you are a professional or an amateur just looking to capture memories on your holiday.
 The area benefits from the sunning scenery in Vatnajökull National Park, which is considered by many to be the most beautiful area in Iceland.
Joksula Loni looks out over one of the 30 outlets from the Vatnajökull glacier, as well as the surrounding rugged terrain, which has been scoured into the rock by glacial activity in the area for hundreds of years.
Joksula Loni enjoys an elevated position over one of those glacial rivers, with Vatnajökull itself within view as well as the highest point in Iceland, the 2,109m tall Hvannadalshnjukur.

 
The National Park is also an area of intense and significant volcanic activity.  There are a number of active volcanoes in the area, including three within the glacier itself and another four within the national park.  
The glacier is the home to the great Grimsvotn and Bardarbunga, which are the largest and most geologically active, as well as Esjufjoll, which is a volcanic mountain island surrounded by glacier on all sides.  The park also includes the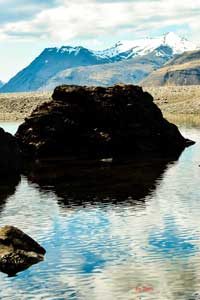 Askja, Herdubreid, Kverkfjöll, and Snaefell volcanoes, which tower over the surrounding scenery.
Some of these volcanoes can be seen from the Joksula Loni viewpoint.  There is also the nearby Joksula a Fjöllum where you can find a number of picturesque waterfalls, including Europe's most powerful waterfall Dettifoss.
 In addition to being full of beautiful scenery, the national park is also home to a variety of Icelandic wildlife, including one of the world's largest populations of pink-footed geese.
 There are many who consider the southeast of Iceland and the area in and around Vatnajökull National Park to be the most beautiful park of Iceland (some will even say of the world).
Joksula Loni is quite possibly the most beautiful spot within the park.  If it the most beautiful part of the most beautiful region in Iceland, it is surely somewhere you must stop if you are travelling to Iceland.