New Haven is a beautiful coastal area situated in the Catlins in the deep south of the South Island of New Zealand.  The Catlins are considered one of New Zealand's best kept secrets and, while it is relatively poorly represented with regards to services, the Catlins are full of a number of beautiful natural wonders.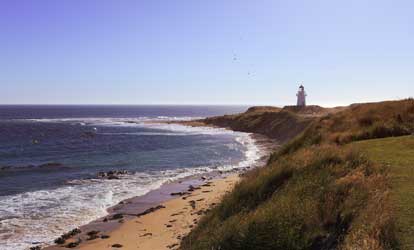 From untouched forest, hidden waterfalls, spectacular coastal scenery, and a wide array of wildlife, the Catlins are filled with some of New Zealand's most scenic areas.
Nestled within this wonderful pocket of the country is the New Haven Holiday Park.  
This is a relatively small but well equipped park that is a great place to go for a nice, quiet holiday.
Located right by a sand bar, the only sounds visitors will hear are the waves gently crashing against the bar.
The heart of the park consists of five cottages, three self-contained units, and two cabins.  There is a communal amenities block that includes a comfortable lounge and kitchen.
 If you like camping, the park also has nine powered sites for caravans as well as a space for tents.
What to Do
Beyond just relaxing and enjoying the beautiful solitude offered at New Haven,
visitors will enjoy close proximity to a number of stunning natural sites.  The park sits very near to Surat Bay, a fascinating estuary where the Owaka and Catlins Rivers meet.  
There are a few very small settlements that overlook the bay and there is a nature reserve in Pounawea.  The Pounawea Scenic Reserve is only a five minute drive from New Haven.
It boasts several wonderful walks through untouched native forest land.  Some walks also wind through a salt marsh where visitors can see herons and spoonbills.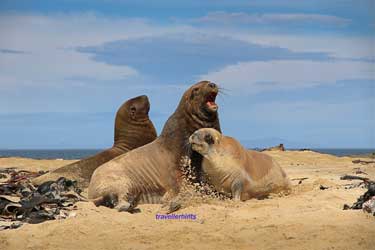 New Haven is also within twenty minutes from one of New Zealand's most spectacular headlands

.  
Referred to as, "The Nugget," this headland is home to a beautiful solitary lighthouse to which you can walk on an easy track from, "The Nugget," carpark.
From the lighthouse, there is a wonderful viewing area from which visitors can look out over rocky islets covered in kelp, fur seals, sea lions, and elephants seals.
There is another easy walk originating at the carpark that will take walkers out to Roaring Bay.  At Roaring Bay, visitors can see rare, yellow-eyed penguins.
The nearby settlement at Kaka Point also has a few cafes where visitors can stop and enjoy the stunning natural views.
If you are willing to drive a bit farther, visitors can head fiftenn-minutes south of Owaka to take in Jack's Blowhole.
Jack's Blowhole is a 550-metre chasm that was first discovered by European settlers in 1875.  Visitors who come at high tide can enjoy Jack's Blowhole in its loudest, and mightiest glory.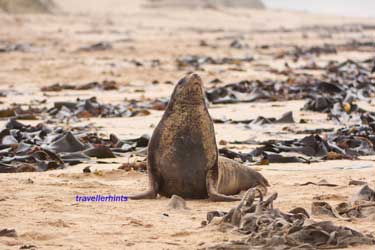 There are also a variety of waterfalls in the Catlins.
Twenty-minutes by car away from Owaka is the trail head to the waterfall at Purakaunui.
It is only a ten-minute walk through enchanting beech forest from the trailhead to the waterfall.  
The falls cascade twenty-metres over three different tiers.  The falls are especially impressive after a period or rain.
Finally, if you are really willing to drive a relatively long distance, visitors can make a trip to Cathedral Caves, forty-five-minutes south of Owaka.
The caves are reached via a 30-minute walk through the stunningly beautiful Waipati Beach Scenic Reserve.
Walkers should be aware that access is gained to the caves via private land, so a small fee is charged and the trail is only open two hours either side of low tide.
The caves were formed by the persistent pounding of the waves over thousands of years.  Some of the caves have ceilings as high as thirty metres.
Travelling from Abroad?
        New Haven can be reached via the Southern Scenic Route, which connects Dunedin, Invercargill, and Queenstown.
Invercargill has an airport that is serviced by Air New Zealand from Christchurch and Wellington daily.  Both Christchurch and Wellington have large, international airports that have a number of international connections.