Hokitika is a small township on the West Coast of the South Island of New Zealand.  The town is situated 40 kilometres south of Greymouth and right on the mouth of the Hokitika River.
        Hokitika has a rich gold mining history that dates all the way back to 1864.  At this time, Hokitika was the centre of the West Coast Gold Rush and by 1866, it was one of New Zealand's most populous centres.  At this time, boats would line the wharf, sometimes three or four deep awaiting for the cargo that was going to make them instantly wealthy.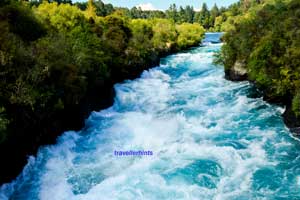 In 1867, the port of Hokitika ranked first in all of New Zealand, both for number of boats coming into the port and for the value of the exports leaving the port.
Over the years, both the population as well as the town's status as an economic centre have dwindled.  The gold rush gave way to a dependence on greenstone, coal, and forestry, but those to have taken on less importance in recent times.
Now, the area's primary economic industry is tourism, specifically, ecotourism.  Hokitika has become one of the main attractions on the West Coast, which is aided by its position right on the coast's main highway route.
What to Do – Hokitika
        Hokitika is filled with activities for visitors to enjoy.  The town enjoys the perks that come with both having a fascinating history while also being situated in a beautiful location with plenty of access to abundant natural sites.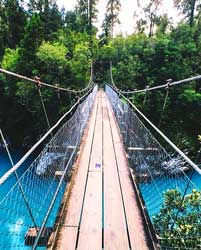 Arts and Culture
Visitors to Hokitika would certainly be remiss to not indulge in some of the local history during their visit.
The hills surrounding the town still contain gold, so visitors can grab a gold pan and head to a public fossicking area at either Ross or Goldsborough where you can try you luck and search for little bits of gold.
In addition to gold, the area is also known to house a large amount of greenstone.  Visitors can also take a variety of guided tours that will allow them to learn more about the greenstone mining history in the region, which dates all they way back to the Maori's occupation in the region, as well as have the chance to find some greenstone of their own.  the Arahura Greenstone Tours will even allow visitors to try and carve their own small greenstone figurines.
        History enthusiasts will enjoy what Hokitika has to offer as well.  The Hokitika Museum is a great spot for visitors to learn more about the extensive history of the region.
Complete with exhibitions detailing the Maori's use of Hokitika all the way through the start of European settlement, and the rise and fall of the gold rush.
 After stopping there, take a trip to the Shantytown Heritage Park.  This park is an all-weather, working heritage attraction that exhibits what the village might have looked like and how it might have worked in the 1800s gold rush era.
Early industrial technology is showcased throughout the park.  Visitors can enjoy steam train rides, gold panning, and old time photos, among other attractions, during their visit.
        If you are interested in a blast-from-the-more-recent-past, then head to the newly refurbished Regent Theatre.
This wonderful Art Deco theatre now houses not only a theatre, where visitors can watch all the newest movies on the latest and greatest digital projection technology with state of the art surround sound, but also an excellent café.  The Regent Theatre is definitely a great place to spend an evening during your time in Hokitika.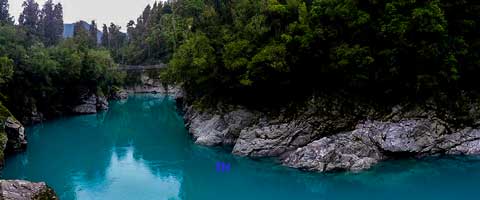 Outdoors
        Hokitika also boasts close proximity to a number of outdoor attractions as well.
Like most places in New Zealand, Hokitika is a wonderful place for walkers and trampers.  The surrounding area is filled with a variety of different walking tracks that range in difficulty from easy, five-minute walks to harder, multi-day excursions.
The Toaroha, Hokitika, and Lower Whitecombe Tracks is a classic West Coast tramp that will take the average walker around 4-5 days.  The track passes through rugged river valleys and crosses two alpine saddles.  This gorgeous walk is not for the faint of heart though and only experienced trampers should attempt it.
The Whitecombe Track can also be done alone, shaving a day or two off of the walking time for the three tracks together.  Whether you are looking for a relaxing stroll, a good, 2-4 hour walk, or a challenging excursion, there is a walk for you in Hokitika.
        If you still want to take in the scenery but walking isn't for you, then take one of the many scenic drives that Hokitika has to offer.  The drives will reward visitors with access to fascinating historical sites, stunning views, quaint picnic spots, and other natural attractions.  Ranging in length from under an hour to full day trips, the scenic drives are a great option for those who want to see a lot of the surrounding area in only a small amount of time.
        Hokitika is also a mountain biker's haven.  No matter what your ability level, the trails around the town are certain to meet your needs and expectations.  There are a number of easier, family-friendly trails near Lake Kaniere and Lake Mahinapua.  If you want more of a challenge, head up to the Blue Spur area which is filled with more challenging tracks.  Of course the West Coast Wilderness Trail passes through Hokitika.
As such, visitors can jump on the trail in a number of locations throughout the town and its surrounding area.  Of course if you are in the midst of traversing the whole trail, Hokitika makes for a wonderful stopping point.  The West Coast Wilderness Trail, which winds between Greymouth and Ross on old logging and mining trails, allows bikers to pass through and around some beautiful coastlines, wetlands, rainforest, lakes, and mountains.
        Waterspots enthusiasts will also enjoy their time in Hokitika.  Hokitika is a great spot for boating, fishing, and kayaking.  Anglers will enjoy the opportunity to either enjoy some freshwater fishing in the Hokitika River or in one of the surrounding lakes, or spend the day doing some surfcasting at the river mouth.  
At Lake Mahinapua, visitors can expect to catch perch and brown trout and at Lake Kaniere, visitors can expect to find salmon, perch, and both rainbow and brown trout.  At the river mouth, anglers can expect to find rig, kahawai, elephant fish, and snapper at Hokitika Beach.
        Hokitika is world renown for its whitewater kayaking and rafting.  Each year, kayakers from all over the globe make the pilgrimage to Hokitika to kayak down the pristine rivers set in stunning gorges.  The rivers drop from the Southern Alps to the sea in a very short distance, with the lower portions of the rivers ideal for beginners.
 Expert kayakers can even enjoy some multi-day CLASS 5 kayaking adventures or, enjoy a heli-run experience where kayakers are helicoptered up to the higher reaches of the rivers.  Of course if you just want some relaxing still water kayaking, the lakes in the region are ideally suited for that.
        The lakes are also ideally suited for both power boating and sailing.  Lake Kaniere is known as a great spot for power boating or yachting.  In fact, it is home to the Lake Kaniere Yacht and Power Boat Club.  If you are more of a sailor, then Lake Mahinapua is the place for you.  This lake is home to the Lake Mahinapua Aquatic Club.  While the boats there are not necessarily for rent for non-members, most members will happily take visitors out for a day on the lake if the weather conditions permit.                
Places to Visit
        Visitors should certainly take a trip to Hokitika Beach.  During the day, it boasts stunning views of both the coastline, as well as New Zealand's highest peak, Aoraki/Mt. Cook.
 Visitors can scour the sand for greenstone or even spot the occasional seal basking in the sun.  Hokatika Beach is the inspiration for a number of local artists.  Each year the Driftwood and Sand Beach Sculpture Festival allows local artist to display their works made from only things they found on the beach.
        Another MUST SEE for visitors to Hokitika is the Hokitika Gorge.  The gorge is one of the most beautiful places in all of  New Zealand.  Just 33 kilometres from the township, the gorge boasts beautiful turquoise waters surrounded by lush native forestland.  The gorge is home to some scenic drives and a few walks that showcase the unbelievable beauty of the gorge.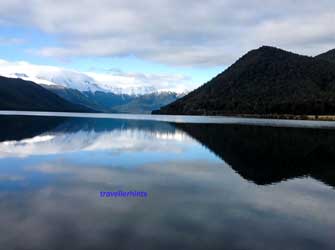 Most beautiful places can't be fully captured in a picture.  At the Hokitika Gorge, a picture doesn't even come close.
        Located just 28 kilometres north of Hokitika is Kumara, another great historical attraction.  Like Hokitika, Kumara was once a boom town during the gold rush.  
Kumara fell into disrepair as the gold rush died down, but it has recently revitalized itself by making it a major historical and heritage attraction.  The town is now filled with a number of exhibits and attractions that bring to life Kumara's rich history.
Accommodation – Hokitika
        As a major tourist centre, Hokitika is filled with all sorts of wonderful accommodation options.
Whether you are just passing through as you complete the West Coast Wilderness Trail, or are in town for a luxurious getaway, there is everything from campsites to beautiful hotels on offer in Hokitika.
Travelling from Abroad?
        Hokitika is home to an airport that is serviced up to five times per day by Air New Zealand from Christchurch.  Of course Hokitika is also very accessible by road.  It is only a three and a half hour drive from Christchurch along a truly spectacular route that will take visitors through National Parks, World Heritage Sites, coastlines, and gorges.