Situated in the Canterbury Region on the east coast of the South Island of New Zealand, Ashburton is the seat of the Ashburton District, also known as Mid Canterbury.
Ashburton is 85 kilometres southwest of Christchurch.  The town is sometimes referred to as a satellite town of Christchurch.
 Ashburton is the third largest urban area in Canterbury, after Christchurch and Timaru.  The town lies in the famously fertile alluvial Canterbury Plains, thus making Ashburton an agricultural hotbed.
This is a surprising fact considering when it was first settled by European settlers, the area was a tussock covered, treeless expanse of land.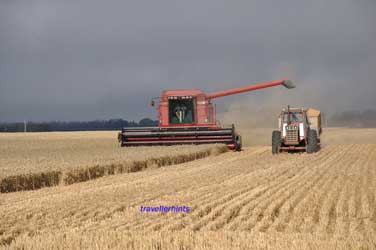 However, its position between the Rakaia and Rangitata Rivers allowed those settlers to develop a series of irrigation schemes that has completely transformed the land into the agricultural centre it is today.  
In 2012, the town was noted for having more cooperative companies operating in the Ashburton District than any other area in the whole of New Zealand.
This led to it being named the "Cooperative Capital of New Zealand" by the New Zealand Cooperative Association.
What to Do – Info
       

Ashburton and the surrounding areas provide visitors with an abundance of activities and experiences.
No matter what your budget or what you are looking for out of your vacation, Ashburton doesn't disappoint.
        If you find yourself interested in the local history, then you should allocate enough time to get to all the fascinating museums in Ashburton.
The Plains Vintage Railway & Historical Museum includes a number of wonderful exhibits about the history of the railroad system in and around Ashburton and in New Zealand as a whole.
The museum is home to a classic steam locomotive, a Vulcan railcar, diesel shunters, vintage tractors, and many other similar artifacts.  Ashburton is also home to the Ashburton Museum, the Aviation Museum, the Harness Racing Museum, and the Ashburton Vintage Car Museum, all of which are equally interesting.
        If you are looking for a top class outdoor destination, then look no further.  Ashburton has you covered no matter what you are interested in when it comes to the great outdoors.  During the winter, the area is a very popular destination due to its close proximity to the Mt. Hutt Ski Area.
Located at the foot of the Southern Alps at an elevation of 2,086m above sea level, the area offers 472 hectares of skiable terrain that is suitable for skiers of all levels.  There is also the Staveley Ice Skating and Curling Rink, which is one of only a few outdoor rinks remaining in New Zealand.
     

  

If you aren't much of a winter sports enthusiast, then come in the summer and enjoy a wide variety of possible activities.
Lake Hood is an ideal spot for those who love watersports, and by watersports, I mean pretty much any activity that you can imagine that is done on water.  
Lake Hood is part of the Ashburton Aquatic Park, which is the home to an 8-lane international specification rowing course, international waterski course, a jet skiing area, a swimming area, opportunities for a leisure boat cruise, kayaking, and windsurfing.  There are also jet boat tours along the Rakaia River.
If you just want a relaxing day on the river, both of the rivers that flank Ashburton are known for being wonderful fishing grounds.  The waters are particularly well stocked with brown trout.
        If you want a more relaxing holiday, try a round of golf on a nationally ranked championship course, take a garden tour, enjoy one of the many leisurely forest walks, enjoy a farm tour, walk around town and enjoy shopping in the unique boutique shops,  or spend the day in the spa enjoying a variety of beauty treatments.
        If you want to take part in a more unique experience, then look to Aoraki Balloon Safaris and take a hot-air balloon tour.
These tours offer visitors wonderful views over Mt. Cook as well as a variety of other national park mountains. In fact, on a clear day, visitors can be treated with panoramic view that stretch as far as 300 kilometres.  If you find a hot-air balloon to be a bit disconcerting, then take a helicopter tour instead.  Either way, you will be treated to stunning aerial views.
Accommodation
        As a popular tourist destination, Ashburton is home to a variety of different accommodation options.  No matter what your taste and budget, you will find the right place to stay for you in Ashburton.
Travelling from Abroad?
        Due to its close proximity to Christchurch, Ashburton is extremely easy to reach for those travelling from abroad.
It is only a relatively short 85 kilometre drive from the large, international airport in Christchurch to Ashburton.  The airport in Christchurch is serviced by a variety of international destinations daily.