Ocean Beach is a tourist location located approximately 5 kilometres south of Denmark in Western Australia.
The beach is a part of Ratcliffe Bay and is surrounded on the east by the Nullaki Peninsula and a smaller granite headland.  Wilson Inlet is part of Ocean Beach thanks to a semi-permanent sandbar that moves seasonally along the beachfront.  
The Beach is a particularly beautiful stretch of coastline and it is the perfect place to spend a day if you are visiting the Denmark area.
Ocean Beach: What to Do
        Ocean Beach is really, just a beach.  There are no other additional developments in the area making the beach the main attraction.
It truly is a wonderful beach and it really is a must visit if you are visiting the area.  Ocean Beach is a very popular surfing spot, with surfers flocking to the beach every year.
 

The area has regular waves and has surfing for all levels, from beginner all the way up to the most experienced surfers.
On its best day, it can provide some of the best right hand beach breaks in the world.  The sea floor is nice soft sand making it a relatively safe place to surf as well.  
The coastline is dotted with a few lookout towers that allow visitors to both see an elevated view of the wonderful coastline as well as watch all the surfing action out on the water.
During the summer months, the beach is patrolled by livesavers.
        If you aren't into surfing, Ocean Beach is also a great place to swim, play beach games, or just enjoy a nice, relaxing day on the beach, wading into the water when you feel so compelled.  It is also a great beach for enjoying a nice stroll.
This is a great way to explore the sand bar and some of the interesting rock formations located on the ends of the beach.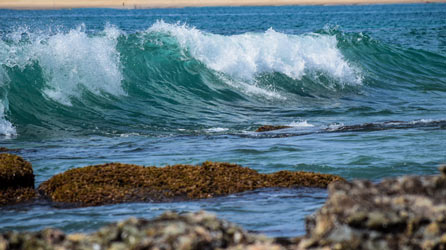 Where to Stay
        Ocean Beach itself has a relatively limited menu of accommodation options.
Nearby the beach, there is a backpacker hostel and a few guest houses, but that is pretty much it.
However, the beach is only a short drive from Denmark, which has the full slate of holiday accommodation options.
How to Get There
 Ocean Beach is easily accessible by car from Denmark.  The beach sits only five kilometres from the town.