The Yarra Valley name is typically used to describe the upper regions of the valley surrounding the river and not the lower part of the valley encompassing the city of Melbourne and its suburban areas.
The area is a very popular destination among day-trippers and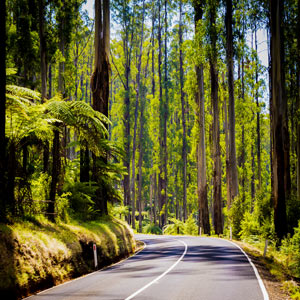 tourists as its boasts a number of natural attractions, a budding winery scene, and the famous Lilydale to Warburton Trail.
Whether you are a resident of Melbourne, or just a tourist passing through on your visit to Australia, the Yarra Valley is an excellent place for a day trip.
        The Yarra Valley produces some truly fantastic wines and its proximity to Melbourne has made it one of the country's most popular vinitourism sites (in 2011, the region had over 3.1 million visitors).
 The region has a relatively cool climate and is best known for producing Chardonnay, sparkling wines, and Pinot Noir.
 The valley is dotted with upwards of 50 wineries, each of which with their own tasting rooms that make it easy for wine enthusiasts to travel to their favorite wineries and taste the product right from the source.
 A number of them also have their own restaurants, tours, or other features that can make your day out in wine country even more enjoyable.
With all these wineries in close proximity to each other, the Yarra Valley is a great place to spend a day out trying the local products, with a designated driver of course!
        If you want to take a short break from all the wine tasting, maybe stop by the Tarrawarra Museum of Art, a beautiful piece
of architecture with beautiful and fascinating seasonal displays.
If art isn't your thing, drive up to the Lake Mountain Alpine Resort and enjoy year round mountain fun.
The Healesville Sanctuary provides a forest haven for a variety of Australian wildlife, such as koalas, kangaroos, platypus, dingoes, wombats, and emus, as well as a number of walking tracks.
 If you want  a more challenging hike, walk part, or all if you are really ambitious, of the famous Lilydale – Warburton Trail.
Of course, if you would rather relax and take in the natural scenery while enjoying a sweet treat, you could just make a visit to the
Yarra Valley:
Chocolaterie and Ice Creamery to enjoy some of their wonderful confections in a beautiful setting.  Or, if you want an aerial view of the scenery, book a hot air balloon trip.
When in the Yarra Valley, you are never too far from your next fascinating attraction, no matter what it is.