Last updated on August 12th, 2017 at 12:47 am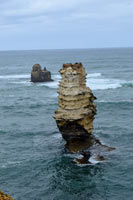 The Bay of Islands Coastal Park is a natural reserve stretching around 32 kilometres alongside the coastline and it is located within the popular Great Ocean Road (in between Peterborough and Warrnambool) in the state of Victoria. It is the official end stop of the Great Ocean Road as it further meets the Princess Highway (A1).
The best of Bay of Islands
The whole Bay of Islands is offering some of the most spectacular lookout areas and coastal walks.
The stunning ocean views are easily accessible as the car parking facilities are always located in a short walking distance (in the Bay of Islands itself, as well as in the Bay of Martyrs, Three Mile Beach or the Childers Cove).
Apart from the eyes flattering views, the coastal park includes also many other natural and geological features such as sheer rocky cliffs, pristine natural surrounding with some rare fauna and flora, rock stacks and cliff formations or beautiful beaches.
One of the rock stands is known to be a home to a black-faced cormorants' nest (rare marine cormorant found only in Victoria).
Due to the limited accessibility of beaches from only certain spots and conditions which can often change (causing possible danger), it is recommended to check the latest information and possible changes before entering.
Bay of Islands
The Bay of Islands consists number of great places, each offering a wonderful experience.
Visitors should not miss out the Wild Dog Cove with spectacular rock pools and secluded beach;
The Bay of Martyrs with self-guided walking track leading to Point Halladale with shipwreck display; Childers Cove at Boat Bay is the place where a barque called "Children" wrecked in the 19th century; or the Massacre Bay with rumoured history of group of Aborigines being killed by Europeans at the Massacre Point back in the 18th century.