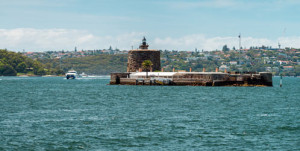 Snapper Island is a 1.65 hectare island in Sydney Harbour, Australia.  Is sits in the main channel of the western portion of the harbour, adjacent to the Sydney suburb of Drummoyne.  
Originally it was a rock outcrop, but in 1931-1932 it was increased in size by more than seven times through land reclamation and reformed into a general plan from of a ship.  Snapper Island is the smallest island in Sydney Harbour and has been altered in terms of shape by human intervention more than any other.
Snapper Island: The history 
The New South Wales Legislative Assembly first deemed the island a public recreation reserve in 1879, despite it being little more than a rocky outcrop at the time.
When the Royal Australia Navy received nearby Cockatoo Island in 1913, Snapper Island came under military control as it was deemed to be within Cockatoo's, "naval waters."  
During World War I, the island was leased to the Cockatoo Island Dockyard for storing the ships' parts and old corrugated iron.
In 1930, the island continued its military duties, as it was leased to serve as a training ground for younger boys to learn nautical skills.
In order to prepare the island for this, around 50 cadets worked over eight months to level the island as well as increase its size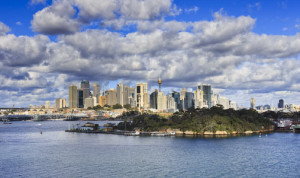 by around 1,000 square meters.  It was during this period that the island was given its unique nautical shape.  
By 1932, work had begun on a signal station, wharf, and other buildings that can still be seen on the island today.
Continuing with the island's nautical shape, the orientation of these buildings mimic the orientation of a naval ship.  
The island came back under military ownership during World War II, serving as a training base for United States troops as well as a social club for British troops on leave.
 In 1952 Lee Forsythe, the man who leased the island when most of its alterations were made, decided to establish the Snapper Island Company and build a museum on the island.
The income from this museum was supposed to fund the island's maintenance.  When the museum opened in 1960, it contained thousands of pieces from Australia's naval history.
Unfortunately, the island is currently closed to the public.