Skywalk extreme is one of the attractions of the Sky Experience Adventures, an amusement park located in Cebu. It will give you the opportunity to walk on the glass flooring of the Crown Regency Hotel and Towers with a safety harness. The floor is located 126.55 meters high above the ground.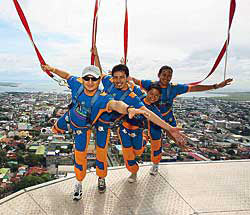 It will make you feel like you are flying because of the height you are in. It is the first SkyWalk Extreme in the Philippines, therefore everyone wants to experience it.
Expect to see a beautiful scenic view, no matter if you start your adventure in the morning or night time. It is open daily, the entrance fee for students is Php 200.00 per person and Php 250.00 for adults.
If you want to experience more attractions here at the Sky Experience Adventures, you can mix your entrance fee with a combo package filled with different kinds of rides. Prices are ranging from Php 400 to Php 650 for students and Php 550 to Php 1,000 for adults per person. You can buy your tickets for your access and rides at the 19th floor Sky Lounge and at the ticket counters are on the 37th and 38th floor.
When you are tired and hungry after the activity, dine with an amazing view at Sparkz Restobar. This international dinner buffet that is open every night from 6 pm to 10 pm. In this adventure, your fear of heights will vanish and will be replaced by enjoyment.