Sambawan Island within Biliran Island is located in Leyte, Visayas, Philippines. Sambawan Island is one of the impressive islands in Biliran, it composes of rock boulders, cliffs, rolling hills and white powdery sand. It is defined as a long stretch of skeleton island. As you dock on the shore of this Island, you will feel like the pristine water and fine sand greets you.
This place is perfect for relaxation. It's a place where you can simply unwind because it is not yet crowded, its quietness and calmness will make your problems and worries vanish. Try to climb up to the top of the hill, it will give you the great view of the island. You will see the iconic volcano of Maripipi Island which gives you a perfect picture of that volcano as a background. The activities you can do are swimming, snorkeling, scuba diving, Island hopping, hiking or trekking and more.
Sambawan Island Hostels Booking Here
 It is also rich in coral gardens and marine life. Black Tip and Bull Sharks are also found around this island, which attracts and thrill scuba divers to go to this island.
This one is amazing, can you imagine? The Sambawan Island divides into three beautiful islets during high tide.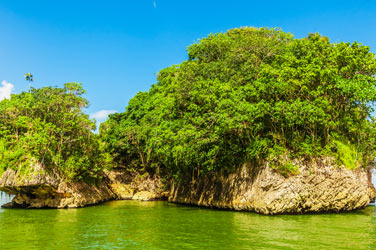 Here are some little tips before going to this island: You should bring your own food if you are going to spend the night here. There are no food supplies on this island, only small stores that sells junk food are available.
There are two kinds of cottages you can rent: cottage 1 is a Beach hut good for eight persons; while cottage 2 is a Lodging Cottage good for 10 persons. It composes of Television, Electric Fan, Bed and more.
If you want to be adventurous, you could camp here. There are tents available for rent. But if you want to be wise, you could bring your own tent to lessen your expenses.
To get to Sambawan Island, you should first reach Naval, the capital of Biliran by van with two hours travel time. Next, hire a small boat from Maripipi Island. It can take from one to three people and it takes around 20 minutes travel time. If you are traveling with a large group, it is recommended to rent an outrigger boat from Kayawan town with a travel time of one and a half hour.
Sambawan Island Hotels Booking Here