Bantayan Island is composed of 3 municipalities: Bantayan, Madridejos and Sta Fe. Bantayan is the largest and most populated. Going to Bantayan, you can take plane going to Cebu City as this is the gateway going to the Island. Then you could take a bus going to Hagnaya Port and then take a ferry.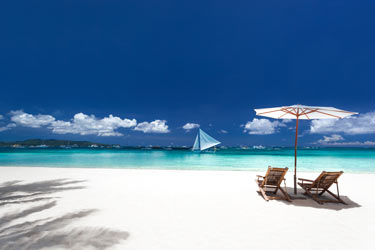 The bus ride is around 3hrs and the ferry ride is about an hour. It may be a long travel time but believe me, it's all worth it. The people of Bantayan Island are very warm and their smiles are as bright as the sunshine.
There is actually an airport in Bantayan Island located in Sta Fe, but there are no scheduled commercial flights yet.
However private air companies which fly occasionally smaller planes and Piper aircraft land in Bantayan Airport.
Choosing where to stay is one thing you have to consider because there are resorts which already offer various activities without the need to go somewhere else. Well not unless you really wish to explore the whole Island and have enough budget to do so.
Worry not because there are a lot of resorts on the entire Island. There are budget-friendly homestays that would make your stay comfortable and have fun. Eat like a local!
Hostels Booking Here 
Try Bantayan's speciality called Puto Balanghoy – it is a very healthy snack made of grated cassava with coconut. They also have a version of Bicol Express, a pork cooked in coconut milk with shrimp paste and a lot of chillies, called Sta Fe express. The only difference is that there is more meat in Sta Fe's cuisine.
Try to rent a bike and explore places. It is surely a very convenient way of going to places. Of course, you should not miss visiting their famous cave called Ogtong Cave. During weekend though it is filled with families and adults and children swimming.
If you are with a child, make sure to keep an eye on them to prevent any untoward incident.
There is also this cave called Sto. Nino Cave. It has a natural swimming pool, however, they only allow 20 persons at a time to enter due to safety reasons.
Just a few steps, there is a beach resort where you could actually enjoy paddleboarding using paddleboards made of bamboos.
And because Bantayan Island is composed of many small islands, you might be interested in trying island hopping as well. You could rent a motorized boat to do so. You might as well like to check out Virgin Island which is just 10-15 minutes away from Bantayan. And don't forget to visit Sts.
There is the Peter and Paul Church located in the heart of Bantayan City. It is believed to be the oldest church in Visayas and Mindanao. The church was originally built in 1580. It was destroyed by rebels and natural disasters but was restored and rebuilt again.
Bantayan Island Hotels Booking Here