Apo Island is home to over 650 species of fish and 400 species of corals. Apo Island is located in Negros Oriental, Philippines. It is a small island which uses rainwater as tap water and electricity is only available for 3 hours a day. So you can just imagine how laid-back and basic the island is?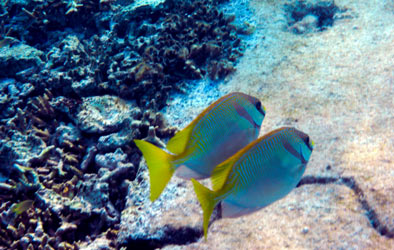 The closest airport to the Island is Dumaguete – which is the Capital of Negros. As soon as you de-plane, you can take a bus, rent a boat or you could ask your hotel to fix your transport upon your arrival (and departure) for you.
This is pricier though. Boat ride is about 15-30 minute from the mainland.
Riding the boat you must know that you might get wet as you have to walk through the water to board. You have two options though. Further, you also must remember to put your gadgets in a waterproof / sealed bags in case the waves may get a little rough.
Upon arrival on the Island, an environmental fee will be collected from you. This is used to maintain the cleanliness of the island.
Tourists who enjoy diving keep on coming back to this Island as it is deemed one of the best diving spots in the world. Here you would be delighted of how beautiful their reef and the coral garden are.
Best Hostels Booking Here 
In case you are not too confident with your diving skills, there are resorts which offer diving classes / programs and they also provide some diving gears for rent. Don't worry because these diving instructors are PADI-certified.
There are a few more activities you can enjoy while staying on Apo Island.
First, try snorkelling for you to really appreciate the beauty of the sea. You could just find Nemo there! Seriously, it could give you a feeling that you are inside a big aquarium swimming with hundreds of fish.
You may also see some turtles while snorkelling. You may also want to know that if there is one thing that this island took pride in, it is their community-organized marine sanctuaries.
You might also want to try trekking. Make sure to wear full clothes including hats and a pair of sunglasses especially during hot seasons. And bring water with you. Also, take note that trails might be a little steep. So watch out.
If you wish to go see and experience the best view, try to trek to the lighthouse. The stairs up are steep but as soon as you go to the top, you will be awed by the beautiful view.
As for the accommodation and food, Apo Island Beach Resort and Liberty Lodge are the most popular resorts on the Island. There are, however, many other homestays you can find in the area.
To name a few, Mario Homestay, Runors Lodging and Mary's House. Food may be little pricey in the hotels so better check out some of the eateries on the island.
Apo Island Hotels Booking Here