Tawi Tawi is one of the easiest accessible destinations for tourists which you can reach by land or by sea. What are the things you can do when you get to this place? First you can tour the beautiful Bongao, it is the most crowded place in Tawi Tawi.
Second, you can explore Tagao South Ubian, Pasegan Guimba, Panampangan Island in Panglima Sugala to experience the Sandbars and Virgin Island beaches which offer great views.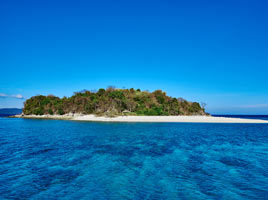 Third, you may experience some of the water activities such as Snorkelling, Scuba Diving and Boat riding going to Sitangkai and Sibutu.
You can try to eat one of their popular delicacies and you can enjoy a souvenir shop at Badjao Village. And you can see the beauty of a Chinese pier and their organized, clean public market.
The place also consists of some interesting and exciting tourist attractions such as the Balobok Rock Shelter that is found beside the sea of Brgy. Lakit-Lakit. Very well known cave shelter where some artefacts are displayed inside the cave, like flake tools and bone tools.
The Tawi Tawi Provincial Capitol, the golden capital with golden domes, was made in Islamic architecture. The Sitangkai is a place where they performed the indie film "Thy Womb" starring one of the famous actors like Lovi Poe, Nora Aunor and Bembol Roco.
The Sheikh Makhdum Mosque is a prestigious and religious place which they consider the National Cultural Treasure and Landmark. It was also a first mosque in the Philippines found in Simunul town built by Sheikh Karimul Makhdum.
Enjoy swimming and a day trip to Sangay Siapo Island with fine sand, clear water, tiny pebbles, starfish and corals. In Badjao Village you will find the handwoven and vibrant coloured mats or banig.
They sell these mats as an additional income, well known as a sleeping mats or rugs used during prayers. Additional info, this is the melting pot of some of the Christian migrants and Chinese. However, this place is predominantly a Muslim place, so dress properly.