Britania Island: Somewhere in Lianga Bay in San Agustin, Surigao del Sur there is an island called Britania Island. It is composed of 24 scattered islands and islets, all of which have white, fine sand.  
However, only six of these islands can be explored by the tourist because most of these islands are said to be inhabitable. The six islands which you could explore are Boslon, Hagonoy, Naked Island, Hiyor-hiyoran, Panlangagan and Tagoan.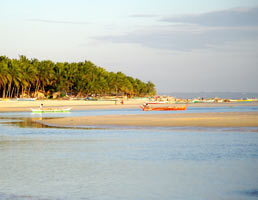 Getting to Britania Island, you must take the plane going to Butuan City and from there you could take buses or a van going to San Agustin. Put your headsets on because it's a 3-4 hours drive.
Upon arriving in town proper, you may take a tricycle to get to the Salvacion Tourism Office where you will be required to register and pay a minimal amount for the environmental fee.
After getting through this, you may take a motorcycle (called habal-habal) to take you to Britania Group of Islands.
For you to start the island hopping, you will be renting a boat. These boatmen are very polite, helpful, and really experienced when it comes to dealing with tourists, so the tour would surely be pleasant and enjoyable.
Make the most of your stay by swimming, island hopping and cam-whoring as these Islands are really picture-worthy. And sands? They are so fine that it is ideal and perfect for a leisure walk.
Buslon Island is the largest among the islands of Britania. This is the island where the island hoppers stop by to enjoy their lunch.
Some fisherman on Britania Island would offer you their freshly caught fish or seafood and even grill it for you. Price is cheaper compared to when it is already being sold in the town.

Buslon's neighbouring island Panglangagan Island or Twin Island can be reached by foot during low tide. If the idea of island hopping by foot appeals to you, better talk to the boatman of the best time to visit the island.
Panlangangan Island (Twin Island) – as mentioned, this can be reached by foot from Buslon Island during low tide.  There is a cave on this island which has been utilized by Japanese as a burial ground for their fallen soldiers. Hagonoy Islands – got its name from the weeds that use to grow there.
This island is the furthest among the islands of Britania. There are several coconut trees on the island which tourist use as a shade when the sun is already up.  
Naked Islands – it is called so because of it being naked. Not a single tree can be found on this island. It is just a long stretch of white sand beach.
Walk around, enjoy gentle waves kissing your feet. Hiyor Hiyoran Island – Noon in this island you could see starfish and sea urchins and in this island you could also see rocks, sea shells and even twigs / woods lying in the beach.
Island hopping can be done in one day. But if you choose to stay longer on the island, there are accommodations ranging from private resorts to affordable lodging houses. As for the food, you can enjoy variety of seafood.
How to get there 
Britania Islands is about  6-hours ride from Davao City and about 3 hours from Butuan City. travellers  can get there through private taxi, van or by public utility vehicles. If travellers take a bus,  at the Salvacion junction where there's a tourist help centre situated. From there it is 2.8km away to the final destination (a motorcycle ride is the best option).