People's Park in the Sky: just as you thought of escaping from your usual busy routine from work or school, People's Park in the Sky is a good place to consider. Being at the highest point of Tagaytay, the Taal Lake view and Taal Volcano is stunning.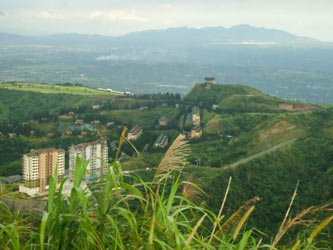 Well known as the "People's Park", it was formerly called the Palace in the Sky as it was converted from an unfinished mansion during the Marcos Era which was built in 1979.
It was a constructed to serve as a guest house for the former U.S. President Ronald Reagan who was about to visit the country.
The supposed visit never happened as the EDSA People Power occurred which resulted for former President Marcos being expelled from the position. So the supposed palace came out abandoned.
But the place is loved by many. Being unique on its own structures, the collapsed walls, peeled paints, lamp posts without bulbs, railings eaten rust, weeds and moulds are just perfect within the atmosphere. The amphitheatre sits in the middle of the park. A mini-chapel is built on park's right side.
Aside from the amazing view along the way, the palace grounds, the green scenery, the bridge over non-existent water, the Science and Technology Doppler radar station, the giant Pineapple and Jesus Christ statue are the highlights of this place making it popular among tourists as well as making it the best destination for photo enthusiasts.  
Either it's for fun or amusement, People's Park in the Sky also serves as an educational establishment that showcases the history of the Palace in the Sky that began in 1981. Astory that is worthy to be told from generations to future generations.