Pagsanjan Falls is one of the popular waterfalls in the Philippines, it is one of the tourist attractions in the province of Laguna.
With a short walk or a short hike from Cavinti, you can also reach the top of the falls. Skilled boatmen will bring you to an exciting boat ride at Magdapio River to reach the famous falls.
You take a raft ride once you reach the falls and you only have to pay 90 Philippine pesos or $2. It is also known by the name of Pagsanjan river because of the two rivers flowing and continuing into the Balanac and Bumbungan river.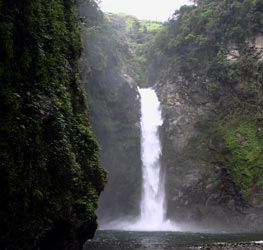 The Pagsanjan Falls was proclaimed as a national park and a place wealthy in folklore. Many tourists visited this place to see the beauty of the surroundings and the natural breeze of air coming from the falls.
You can also walk to the falls from the town of Cavinti but it provides 500 steps and two vertical staircases. The good part of your journey is you can reach the Devil cave.
To visit the Pagsanjan falls the managers will provide you with a tourist guide to lead you depending on which part of the falls you would like to go to. You can also dip into hidden caves and taste the local specialities and enjoy a buffet while listening and being entertained by the live music.
There are also two great boatmen that take you to the dock. Many traveler are awed by the beauty and cleanliness of this falls so many tourist are visiting this place repeatedly, both locals and foreigners.