Mansion House is the city's most impressive attraction and residence of the President of the Philippines located at Baguio City, the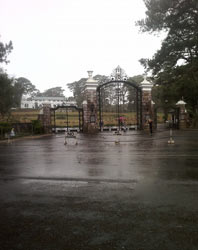 summer capital of the country.
It is located around 5,000 feet or 1,500m from the Cordillera Central Range of northern Luzon. It was built in the year 1908 and was used as the venue for important events like international conferences.
It consists of an elegantly designed Spanish colonial revival of the main building and a guest house. It was also reported as a perfect replica of Buckingham Palace's main gate in London .
There is a quiet promenade long reflecting pool with pine trees called the Wright Park and the nearby hills are vacation houses and small inns.
The Philippine government rebuilt and improved the structure of Mansion House in the year 1947 after it was destroyed in 1945 during the battle for the liberation of the country.
Since then, it has been used by various Presidents of the Philippines whenever they had official visits, or engagements.
There is a circular driveway where vehicles entering the compound should pass through. It is a very beautiful and favourite site for sightseeing and picture taking because of its well-manicured lawn and beautiful gardens.
There is a mini museum inside the mansion, housing the memorabilia and works of art collected over the year of occupancies by the former presidents, and the Philippine Marines are the one who maintains the security of the large compound.
How to get to the Mansion? You can go there by car passing through Leonard Wood road, by taxicab that costs about Php 60.00 and by jeepney from the central business district, about Php10.00 per person.