Last updated on January 7th, 2018 at 02:42 pm
Kennon Road: it is one of the three major access roads that connect the provinces in the western and central part of Luzon
and Manila to Baguio City. It was built in the early 1900's when the Americans were still learning about the country after the Spaniards were defeated.
Kennon road was damaged and is still undergoing repairs due to the earthquake it encountered in 1990. When driving through this road you will encounter sharp hairpin turns and blind curves that require you to be extra cautious.
There are landslides which could block the roadway, it is very slippery when raining and there are no guardrails in some parts and some of the guardrails are not strong enough to stop a vehicle. But, In spite of the danger awaiting, there are still tourists and visitors who pass through it because of the breathtaking scenery that unfolds at each of the bends on the road.
The beautiful and scenic sites along Kennon road are the Bridal Veil Falls, Bued River Gorge, Colorado Falls, a pedestrian suspension Bridge, Twin Peaks and the breathtaking view from the observation deck where you can see the entire zigzag road from above. Also, the famous sculptured lion's head is there.
You can buy an assortment of native handicraft, brooms, vegetables and locally made delicacies in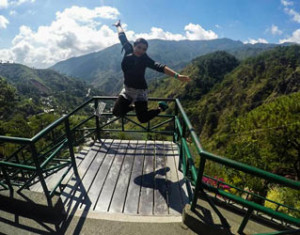 small stores along the road. You will love it more if you are having a private vehicle so you can stop for a snapshot anytime.
Once you visit this place, you will probably say that it is one of your best experience and will make you want to go back again.
Road Trips landmarks- The Lion's Head
It is an undisputed landmark along Kennon Road in Baguio City. A trip to Baguio is not complete without taking a photo with the famous lion's head they commonly call it there.
The Lion's head is a 40-foot high statue carved by an artist in Cordillera from a limestone boulder. The construction began in 1971.
It is a symbol that would proclaim the presence of the group called The Lion's Club of this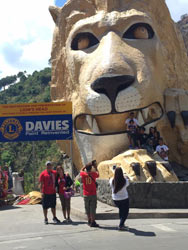 mountain resort city.
There are small stalls beside the head that sell woodcarving and other native handicraft. Light snacks and soft drinks are also sold for those visitors who take time to stop and take a break after a 45-minute drive on the Kennon Road.
Since this popular landmark was constructed, vendors have enjoyed high sales. There is a jeepney terminal called camp 7 terminal that leads to the lion's head with a fare of P16.50 and is located in Carantes Street, Baguio City.
It faced the wrath of 7.7 magnitude twin earthquakes that hit the city on July 16, 1990, and thus suffered severe cracks.
The support provided to those who had been affected by the earthquake led to the rehabilitation of the damaged lion's head.
Even though the iconic structure started to change its colour and appearance, that it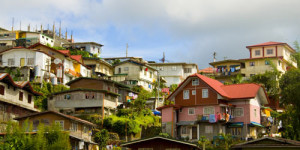 actually came to the point that it began to look more like an ape, Tourists and visitors still stop and have a souvenir photograph taken at the base of the head.
Evidenced by various handicraft and wood carving stores, it helped to boost the local economy.
Now, the Regional Technical Working Group has a proposal of building a wider view deck and a multipurpose building with a tourist information booth and also proposed a P50 million budget for the major facelift of the lion's head.