The Banaue Rice Terraces are shaped like a ladder going to the sky, made of solid rock and soil. This promenade was declared a National Cultural Treasure by the Government of the Philippines.
It is also considered one of the most beautiful and peaceful sights. The hiking trails draw the attention of both local and foreign tourist.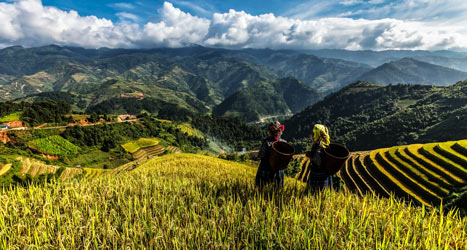 Many young people work as tourist guides in this area, usually high school and college students.
You will also find the friendliness of the locals and some of the charming people in the Philippines.
The Banaue Rice Terraces provide tourists with some world class experience.
The sight is pretty far from Manila, but it's an awe-inspiring destination in the Philippines. Travellers had no complaints in any effort and expense of going there because of the inherent beauty and magnificence they are rewarded with.
The Banaue Rice Terraces are protected by Ifugao people and they take care of it. They maintain cleanliness of the area. It also comprises of Hapao, Batad, Bangaan and Mayoyao terraces. Also, it is an example of nationalization – a continuous mixing of two cultures, taking on a new identity in a variety of environments.
It also describes how beautiful a world without boundaries is. The terraces are made by people which have used their strength for creating the design of a landscape. That is why we do not wonder why it was included in the 8th wonders of the Philippines.