Puncak Jaya also known as Carstensz Pyramid (Victory Peak) is the highest peak in Indonesia (of the continent of Australia and Oceania). This mountain is the highest in the Pacific Basin.
There are many names that people call this mountain such as Carstensz Toppen, Jaya Kesuma, Nemangkawi,  or Gunung Sukarno.
 It is located in the Sudirman Range of the western central highlands of Papua, Indonesia and has a 4,884 meters (16, 024 ft) above sea level.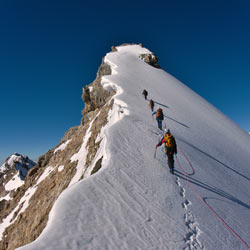 Puncak Jaya is the tallest mountain between the Andes and Himalayas and the highest island peak in the world. It holds the last glaciers in the tropical Pacific. Puncak Jaya is named after Dutch explorer Jan Carstensz who first sighted the glaciers on the peak of the mountain in 1963.
First climbed by Heinrich Harrer with three other expedition members, he was the first mountaineer to reach the peak in 1962. "I Come From the Stone Age", his book provides excellent reading about climbing Carstensz and other peaks in the area.
The temperature in the highlands areas during daytime should range between 75° and 85° F, with most evenings about 45° F. In
the afternoon, expect warm showers which may turn cool if encountered on a mountain pass. Occasionally in the morning's temperatures can range from 28° to 60° F with sunshine.
Winds are variable and can be strong. The route to get on Puncak Jaya follows a series of gullies up the north face for 500m (1,640 ft) of solid rock before breaking out on a ridge. The peak ridge undulates for a half a kilometer from this point on top.  
The mountain can be climbed all year around as it is very close to the equator and there is bad weather.  You can stay in the Meren valley where they offers a few good spots for basecamp.  From there you can not only climb Carstensz, but also Ngga Pulu and other peaks.