Mount Merapi (Gunung Merapi) is literally called the "Mountain of Fire"  and it is a majestic mountain with a conical shape, which dominates the landscape in the central area of Java.
It has a peculiarity: it is one of the most active volcanoes in the world. It is the second hardest mountain to climb located on the border between Central Java and Yogyakarta, Indonesia.
This volcano stands 2930m (9,610ft) above sea level. It is approximately 28 km (17 mi) north of Yogyakarta and somewhat farther south of Semarang.
This mountain is deadly. Several eruptions happened many times in the past and the recent was in October 2010, which killed pyroclastic flows, killed scores of people, injured dozens more, and forced tens of thousands to evacuate the area.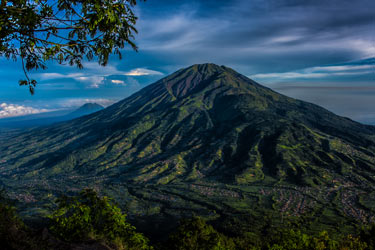 Nigh-time is the best time to climb the mountain for a few reasons. First is to reach the summit for sunrise. Second is to avoid the strong heat of the sun. Avoid climbing the mountain during rainy season which is usually during October to early April.
The slopes become slippery and the high altitude is dangerous. Always bring a warm clothes and  a good hiking boots with sufficient friction to mitigate the wet roads.
There's no many options to eat around in Selo. Local food stalls can be found in Selo offers basic tea and local food items.
Climbing Mount Merapi, you should be fit specially for the first timers – it will be challenging hike for inexperienced/unfit travellers.
New Selo the basecamp on the north side of Mount Merapi. It is 3 to 4 hours climb and the same time to get back down again.
There is a ticket booth stands frequently seen on the side of the road. If you don't want to buy a ticket, you have to take a guide which costs 300 000 good for 3 person.
For Alternative route, from Kinahrejo at the south of the mountain. It is said that it this route is forbidden because it is considered to be too dangerous. If you choose this way, you do it in your own risk.
Starting from Yogyakarta one gets there by taking a public bus to Kaliurang. From there you can pay an ojek for 50.000 rp.  to Kinahrejo. Mt Merapi is basically a pile of rubble walking up should take 5 and a half hours walking down a bit less.