Mount Bromo is an iconic mountain in Indonesia with an stunning landscape that admired by many travellers. Every year, tengger people in the mountain celebrate the annual Kasada (or Kasodo) festival, which they offer money and food by throwing it into the volcano crater.
There are Tenggerese Houses that you can see around the place and those houses have their own uniqueness. There is also a Tenggerese Hindu Temple that is also known as The Potten that found nearby the mountain.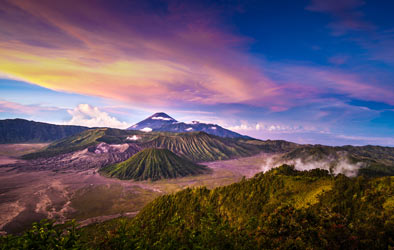 Most of the visitors said that hiking up to Mount Penanjakan is the best ways to catch the sunrise over Mount Bromo. You can trek down Mount Penanjakan and up to Mount Bromo summit for about 1-2 hours depending on your physical fitness level.
You can do horseback riding to reach the crater of Mount Bromo or you can climb up to a 250 steps stairs.
Explore the Puncak B29 by renting an ojek to visit the place and in the morning you can rent a 4×4 jeep to explore the Mount Bromo. Enjoy the fresh air coming from the amazing waterfalls of Madakaripura waterfalls with a distance of 11.1 km from the mountain.
Hostel Booking Here 
Around the mountain, there are small stalls that selling souvenirs such as the colourful Mount Bromo  hat, scarfs, and extra warm clothing.
On the roadside there is a simple warungs store selling regular basic Indonesian dishes. There is a small eatery in the area, the Waroeng Basuki that serves Indonesian dishes such as rujak cingur (salad with a sweet and spicy sauce and garnished), tahu
tek (tofu/beancurd) and they also serves Chinese food.
The place also provides accommodation options around the park. There is lodging house in Cemoro Lawang such as the cafe lava is just near at the entrance that cost IDR 218,000 for an economy room.
The lava View Lodge that cost IDR 375,000 and the Grand Bromo hotel which is located in Sukapura.
They also allowed to set a campsite but you have to register first and prepare your equipment and necessary needs.
From the international airport of Surabaya you can take direct flights from Hong Kong , Singapore , Jakarta, Kuala Lumpur and Bali. If you are going to take a flight from  domestic Jakarta, you may take Sriwijaya that flies twice a week.
Mount Bromo Hotels Booking Here