Senggigi Beach, it is composed of by numerous adjacent yet subtly different areas stretched out along the same two lane coastal road, which you will find that the exact boundaries of each area can seem rather ill-defined and imprecise. Even though there are pockets of improvement and establishments found in some areas, there are still long stretches of open underdeveloped land that lie in between.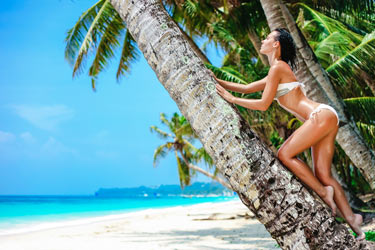 Tourists and travelers, especially the first timers in Lombok, Indonesia, should know the different districts' distinct features and what kind of adventures and escapades they are looking for.
The nightlife and major restaurants are concentrated in the central district of (Senggigi) Senggigi Beach in which has four districts; Mangsit—a few minutes' walk from the north Senggigi.
It is regarded to be the idyllic place for elite travelers, and as far as accommodation is concerned, tourists can either settle for the holiday resorts or cottages in front or near the beautiful beaches.
Senggigi Beach Resort: Tourists can also opt for the Quinci Villas or the boutique resorts. These carefully designed boutique villas can be found on the
stunning Mangsit Beach. These varieties of accommodations; cottages, resorts, and the villas, will definitely provide travelers with all the required facilities and will also provide the perfect ambience that will absolutely make their experience gratifying; Kerangdangan—is located precisely in the north side of Senggigi, western side of Lombok Island.
The Kerangdangan beach has a stretched coastline, it is divided into three sections namely, Kerangdangan Beach 1, Kerangdangan Beach 2, Kerangdangan Beach 3.
It has an amazing panorama, with the long stretch of its coastline exhibiting an array of coconut trees with the swaying of the leaves to the blowing sea breeze giving the vibe of the authenticity of natural beauty and tropical paradise; Senggigi (center) –this place is not the typical resort town, such as may be found in Bali, where in tourists can go shopping during the day, and enjoy socializing at the local bars and restaurants during night time. However, Senggigi Center have enough bars, TV screens with sports broadcasts, pool tables, relaxing lounge areas, and restaurants beside the beach.
Hostels Booking Here 
Visitors actually uses Senggigi Center as their home base during their stay in Lombok; Batu Bolong – is located at the immediate south of Senggigi, the collection of hotels, cafes and restaurants, several karaoke style establishments and a huge barn like nightclub are sparsely spread out along  the coast road.
Batu Bolong is like the southern satellite extension of the Senggigi district. Senggigi center has the lively night life while Batu Bolong and Mangsit are more on the hotels situated along their respective beachfronts.
Senggigi Beach Hotels Booking Here