Tirta Empul Temple, according to the legend the spring is known as the fountain of immortality to revive and was created by the God Indra when his forces were poisoned by Mayadanawa. Balinese believe that bathing in the sacred water will cause spiritual healing and ritual purification. It was constructed back in 962 AD during the Wamadeya dynasty near the town of Tampaksiring, Bali Indonesia.
The temple has a bathing structure  and it has fresh water spring that gives out water regularly. The water is said to be holy or amritha so the Balinese people refer to it as a holy spring.
Tirta Empul Temple – all temples are important among Balinese people.
The spring is the source of Pakerisan River. The water from the spring flows through the purification baths and pools (where devotees can take a bath) and a fish pond that surrounds the outer perimeter down to the river. The pond is filled with Koi.
The temple has three key divisions. Jabah Pura (front yard), Jaba tengah (central yard) and the Joroan (inner yard).  The Jaba Tengah (central yard), where pilgrims will be welcome with a rectangular purification bath with 13 sculpted water sprout.
It is arranged from east to west where pilgrims bow their head under the gushing water sprouts. The last two sprouts are believed to be used for funeral rites.
Balinese people usually visit the temple for a purification bath as well as to collect the holy water to use it at a local ceremonies.
As observed in most of the temples in Bali, tourist should dress respectfully. You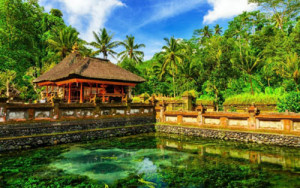 should follow a dress code wearing a traditional "kamen" wrap around the lower waist.
In addition, since the temple is visited for bathing and purification purposes, women who are having their period are prohibited to enter the temple. Overlooking the temple is a villa that was constructed in 1954 for President Sukrano's visit.
There is a large parking area in front of the temple where you can find akiosk and souvenir shops.  They specialize in local craft, carved and bone jewelry.
Several warungs (local fast food places) or food stalls that sell local food, snack and refreshments are available in the surrounding. Tirta Empul opens at 9:00 and closes at 17:00 and an amount of Rp 15,000 is collected as the entrance fee.
It is located at Manukaya village, district of Tampaksiring, Gianyar, central Bali. The temple is accessible by a public transportation from Ubud. Dipping into the spring water is the best experience when you visit the Tira Empul.