Pura Luhur, commonly known as Uluwatu Temple is a Balinese sea temple located in Kuta South District, Badung. The temple is a 70 meter rock which was built at the edge projecting into the sea. Being included as one of the six key temples, Pura Luhur is believed to be Bali's spiritual pillars.
When it comes to the choosing the right place to go for a delightful adventure, Pura Luhur is a good choice among travelers who love seeing the sunset together with breathtaking views of Indian Ocean. Spectacular is the best term to describe the place as many archaeological facts are found showing that the origin of this place dates back to the 10th century.
The temple has two main entrance points, from the southern and the northern part. Monkeys are the inhabitants of the place and are believed to be guarding the temple from bad influences. The remarkable view of the place is from the bottom of the water surging up against the rocks.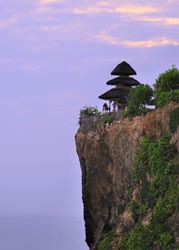 The temple has been a center of worship for the Balinese Hindus, Siva Rudra as they believed that the powers of Vishnu, Siva and Brahma have become one there. It is also believed that it protects Bali against evil spirits.
It is no doubt that the place has enough good reasons for you to visit. The steep cliff overlooking the ocean, the monkeys, the charm of every sculpture, the pathways, the mystical tall mountains and lush forests are just some of the most important things waiting to be seen.
To enter the temple, every visitor is required to wear a sarong which is available for rentals. Opening hours start from 9 AM to 6 PM. And for Balinese Hindu worshippers it is open for 24 hours every day.
It is a 45 minute drive from Nusa Dua. If visitors are from Kuta, renting a taxi will cost around 150,000 Rp and will usually take around 30 to 40 minutes.
One important tip is to keep your belongings like camera and phones in your pocket at all times as the monkeys will come and usually grab stuffs. Going to Pura Luhur is all worth it especially if you're after the dramatic sight of the sun setting over the temple by the cliff.
Aside from Pura Luhur temple, Uluwatu Beach located below the cliff is also one of Bali's prominent surfing spots – just enough reason to book your trip.
Full day expeditions aren't enough to actually explore the must-see places of Bali, including the fascinating temples, scenic lakes, the mountains, the markets and the famed rice fields.