Pemba Island which in Arabic means Jazīrat al-Khuḍradhi, is an island in the Indian Ocean, lying 35 miles (56 km) off the coast of East Africa opposite the port of Tanga.
The Arabic name which means "Green Island," suggests, it is more fertile than its sister island, Zanzibar, which lies 30 miles (48 km) to the southwest; the two constitute an autonomous territory of Tanzania.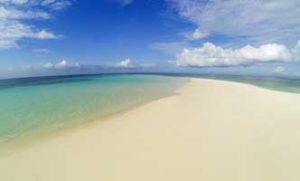 The island is 42 miles (67 km) long and 14 miles (22 km) wide. As the Arabic name, Pemba is the world's leading producer of cloves.
Much of Pemba's coast is lined with mangroves and lagoons, interspersed with a few good stretches of sand and some idyllic islets.
Offshore, coral reefs, the steeply dropping walls of the Pemba Channel and an abundance of fish offer some of East Africa's best diving
Unlike flat, sandy Zanzibar, Pemba terrain is hilly, fertile and lushly vegetated.
Zanzibar, its larger neighbor to the south, although the islands are separated by only 50 km of water, relatively few tourists cross the channel.
Throughout, Pemba remains largely 'undiscovered', and you'll still have most things to yourself, which is a big part of the island's appeal.
As in Zanzibar, the population and culture of the island have been greatly influenced by infusions of peoples from mainland Africa, the Middle East, and the Indian subcontinent.
The chief settlement is West on the western side of the island. Area 350 square miles (906 square km). As with Mafia Island, Pemba Island, to the north of Zanzibar, is definitely one of the locations to head to if you are a keen diver.
Usually known more for the larger fish shoals and pelagic that tend to come in here, it will, again, give a medium to advanced diver plenty to keep occupied for a week or so.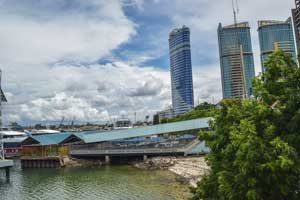 Pemba Island – HOW TO GET THERE
With the booming tourism industry in neighboring Zanzibar, more adventurous travelers are seeking out the less-crowded Pemba for peace, tradition and pristine uncontaminated nature.
Pemba Island is accessed via most airports in East Africa via Dar es Salaam. Most roads in the island are rough but it's worth the journey.
Coastal Aviation among other chartered airlines fly to Pemba daily from Dar es Salaam, Zanzibar and Tanga. The island can also be accessed by ferry to Zanzibar then to Pemba by flight as it's more cost cutting.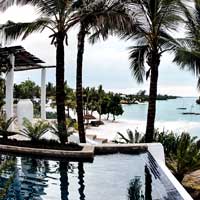 Pemba Island  – ACCOMMODATION information 
There are 2 outstanding accommodation facilities in Pemba that a traveler must experience. This are the Manta underwater room/ resort and the Fundu lagoon Resort.
Pemba Island – FUNDU LAGOON RESORT
The Fundu Lagoon lies on a wild and beautiful beach on Pemba Island, in the Zanzibar archipelago. There are 18 spacious thatched and tented rooms, including six suites with private plunge pools, set on a raised wooden deck with wonderful ocean views.
At high tide, the white sand beach is perfect for swimming, while at low tide the reef is exposed and one can explore miles of unspoilt seashore, with its unique marine and bird life.
Nearby lies Misali Island, an idyllic sand atoll surrounded by some of Africa's best diving and snorkeling.
The resort has 18 makuti thatched tented rooms and suites, all large and discreetly private with fantastic ocean views.
There are eight Ocean View Rooms, four Beachside Rooms, one Jungle Suite, one Beach Suite and four Superior Suites.
Suites have private chill out areas and plunge pools and Superior suites are generally larger with a choice of outdoor areas, as well as their own super-sized plunge pools.
All the main areas are open sided with thatch roofing.
There are three bars, an excellent restaurant, a beautiful infinity swimming pool as well as the calming massage and treatment room.
There is a snug satellite TV room tucked away in the heart of the lodge as well as a games balcony with both pool and darts and Wi-Fi in the reception area and bar.
FUNDU LAGOON RESORT – How to get there:
Fundu lagoon resort can be accessed by air. travelers may fly to Pemba from Dar-es-Salaam or Zanzibar daily with the normal scheduled flights.
Following your flight you will arrive at Pemba's airport in Chake Chake, which is located at the center of the Island.
Fundu Lagoon staff will be waiting to greet you and transfer you by vehicle to Mkoani harbor, which will take approximately 45 minutes.
Then it's a private boat (20-25 minutes) which cruises from Mkoani Port around the peninsular to Fundu Lagoon
DISCONNECT FROM EVERYTHING – Manta Resort
Just to be clear –  This is an remote island off the east coast of Tanzania, and probably as far away from civilisation travellers might ever find  themselves.
The Manta Resort is not a 5 star luxury resort and certainly well different to what you might find on other tropical islands elsewhere in the world.
If you're expecting bling bling bling travellers  will be disappointed. If you however are looking for serenity, close encounters with nature and a close knit family of people we look forward to sharing our island with you.
Simple way to enjoy this  Eco friendly  The Manta Resort 
Switch off all your noisy, pressurised, polluted electronic world and enter a completely different world – not as a tourist, but as a sentient human being with simple needs and appropriations  – sunshine, fresh sweet-smelling air, natural food, a pristine comfortable bed and friendly company to care for you and yours on holiday in Africa.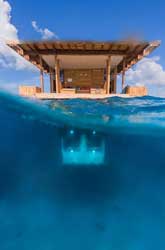 Pemba island – Best Activities Information 
Activities revolve mainly around the ocean and Fundu is surrounded by some of the world's leading dive sites.
The resort has a fully equipped PADI dive center offering a fleet of boats as well as snorkel equipment, water skiing, wake boarding, wind surfing and fishing.
The nearby mangroves can be explored by canoe or take a sunset cruise for a more relaxing view of the coastline
The manta underwater room
One of a kind accommodation only found in Pemba island, a new partly-submerged hotel suite has been created, where travelers can sleep beneath the Indian Ocean, Thriving! Imagine yourself encapsulated within a turquoise blue bubble, watching shoals of reef fish swimming lazily by – sometimes in three or four layers of different species above the reef floor.
This is the heart-stopping experience that awaits you in the underwater room.
The floating structure, Swedish engineered, provides three levels, those above the water clad in local hardwood, and each an experience in itself.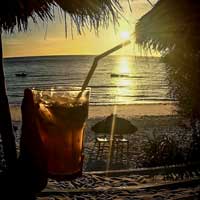 The landing deck, at sea level, has a lounge.
The Underwater room has already attracted a great deal of attention, not least from curious locals: trumpet fish, bat fish and squid which have started mooching around outside the windows.
It will, over time, form a host for coral, attracting more marine life still.
The bedroom's interior is not the most glamorous – but it's the views, not the linens, that are the thing here. Large windows around the bed offer broad views into the bounteous blue on the other side, as the archipelago's rich marine life flickers by.
The magical feeling of lying on a soft double bed surrounded by panes of glass affording almost 360 degrees viewing – watching the shoals of reef fish and exquisite, often rarely seen individuals visiting your windows.
Some have taken up residence around the room, which affords them some protection from predation. For instance, three batfish and a trumpet fish called Nick who is always swimming around and seemingly looking in!
The downstairs –By night, the underwater spotlights beneath each window around the room attract the shyer and more unusual, for instance squid.
Corals are already establishing themselves on the anchoring lines and around the underwater structure. Octopus and even Spanish dancers have been seen attaching themselves to the glass panes.
The reef inhabitants can simply not resist attraction, which makes for exciting watching and a truly unique experience!
A ladder leads up to the roof which has a lounging area.
For sun worshipping by day and by night one can lie back in the starlight and wonder at the extraordinary clarity of the stars, planets and above all, the edge of our own galaxy, the wonderful Milky Way – all seen without any light pollution. Sleep under the stars to the soft murmuring of the sea.
How to get there:
The manta underwater room is accessed by water once in the island. A traveler will start by boarding a traditionally crafted wooden boat which will take one out to the underwater room.
The room lies approximately 250m from the shore, about a 2min boat ride over the crystal clear waters of the Manta house reef.
On arrival at the room, along with your service fundi and boat captain, one will get shown the ins and outs of the private floating island.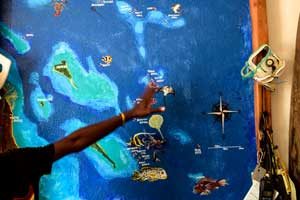 Pemba island – ATTRACTIONS AND THINGS TO DO:
SNORKELING
The reef, directly in front of the resort, lies within the conservation area. Hundreds of species of marine life and crystal clear tropical waters make this a must for all nature lovers.
Every morning by Ngalawa (a traditional sailing boat) at 7am. Experience the vast numbers of marine life and reefs through the clear blue waters of Pemba Island in the chosen snorkeling spots.
One will be taken out with a guide and shown the colorful, vibrant life, lying just under the surface. The cost for snorkeling near Reef is $30 per person while far Reef is $60 per person.
CATCH AND RELEASE
Fishing tradition runs deep to the roots of Pemba's culture. Not only will a traveler enjoy sailing the Ngalawa, but will also learn how to fish with the local experts.
This 2-3 hour excursion is tide and weather dependent. You'll be going out on a dhow Zanzibar and trawl the waters up and down the west coast of Pemba.
Although simple equipment, a traveler will be in for a struggle when hooking a wahoo, tuna, sailfish, Dorado, giant trevally or a barracuda.
The price for the boat, captain and equipment is USD 90/ hour.
KAYAK SAFARI
Explore a remote mangrove wilderness by kayak safari. We will take you and kayak on a sail south along the coastline.
Once we reach the mangroves at Njao Gap, the kayak adventure begins along the thick mangrove forests and inlets. Discover this unique mangrove environment, habitat to exotic bird and marine life.
A refreshing picnic, on a secluded beach, after the exercise is of course also included. A traveler may even bump into a pod of spinner dolphins on the way.
It's always welcome to make use of the kayaks on the beach.
Venture out and enjoy the reefs and vibrant marine life beneath.
This 3-4 hour excursion is tide and weather dependent and the price is $30 per person. Paddles can be found in the dive center at no cost
Pemba island – DEEP SEA FISHING
Enjoy a big day out with a deep sea fishing experience that a traveler will never forget.
The captain will take you out to fishing grounds, where a wide range of fish species await under the clear blue waters.
One will enjoy refreshments throughout the day and it takes up to four people excursion at once.
The price for half a day is $770 for 7 hours and $1050 full day for 9 hours per boat.
An hourly rate, if not in conjunction with half-day or full day fishing trip, will be charged at $295 (first hour) and $145 for every hour thereafter, for up to 8 hours.
Additional hours on any regular trip is $145 per hour.
The fishing charters must be arranged before arrival and paid at the resort. All the fishing is catch and release for conservation purpose.
CASUAL FISHING
Marvel and enjoy a casual cruise along the reef line in a dive boat while trawling lines and hoping for a strike. If it happens that one catches a tuna, Dorado, kingfish or wahoo, then will cook it up for dinner.
This 2-3 hour excursion is tide and weather dependent, and the price is $75 per hour with a Maximum of 8 people per boat.
Local Ngalawa hand line fishing, fishing tradition runs deep to the roots of Pemba's culture. Not only will one enjoy sailing the Ngalawa, but will also learn how to fish with the local experts.
This 2-3 hour excursion is tide and weather dependent and is $30 per person with Maximum of 3 persons per boat.
SANDBACK TRIP
At low tide, a sandbank protrudes to offer a walk on the purest white coral sand. The perfect beach to relax on surrounded by azure blue waters.
The excursion relies heavily on the tides, currents, and weather conditions and is not always possible. This will require some planning between a tourist and the resort management.
A cooler box of fruits and refreshments is brought along. This is a 10-minute boat ride from the resort on the most northern point of Pemba Island.  The price per person is $25 with boat. $20 per person with Ngalawa.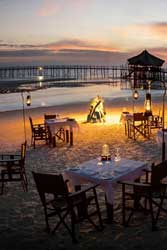 Pemba island – NGALAWA SUNSET CRUISE
A Ngalawa is the traditional sailing vessel used by fishermen on the island.
Leaving from the beach at around 5:00pm, a traveler will cruise along the shoreline over the reefs enjoying the sunset, the thrill of the sail, and refreshments. The price $20 per person.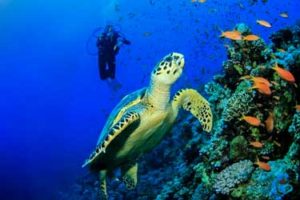 Pemba island – BREATHTAKING DIVING
The diving around Pemba Island, Zanzibar is nothing else but breathtaking.
The untouched coral reefs surrounding the entire island makes Pemba one of the top dive sites in the world. Pemba, Tanzania is the perfect place to start your dive adventure with one of the healthiest coral reefs in the Indian Ocean, a water temperature averaging at 26ºC and the best visibility of East Africa of 30-40 meters almost every day!
In addition to the excellent natural water conditions, dive 360 Pemba Dive Center has everything one needs, including a great training pool in two levels, professional dive instructors, and guides to help you with all your diving needs.
Some of the dive sites around Pemba are spectacular by any standards.
The deep Pemba channel rises dramatically towards the island's west coast in near vertical walls along many of the reefs.
Diving in this region is characterized by exceptionally clear, blue water drop-off's and vibrantly healthy shallow reefs. Hard and soft coral gardens support a proliferation of reef and pelagic fish and other marine life.
There are different breathtaking diving sites namely:
House reef
Right on the entrance to the manta resort coming from the ocean, an open patch of sand at 5m with superb visibility, flowing into big coral bodies filled with tropical fish and nudibranchs.
The reef is perfect for snorkelers and divers of all levels, as well as night dives. One should be cautious of the large eye squid and octopus.
Scorpions secret
Situated just 2 minutes boat ride from the manta resort, a gentle sloping wall starting at 5 m down to a clear visibility and gentle currents make this site perfect for newly inexperienced divers and snorkelers alike, as well as night dives.
The site is well known for its camouflaged scorpion fish. Leaf fish, lion fish and giant frogfish.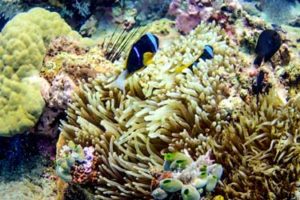 Njao gap with 5 dive sites
The site is a 30 minute boat ride from the resort, njao gap which separates njao small island from the main island.
A traveler will find 5 different dive sites namely: coral garden, north wall, south wall, slip stream and jahazi reef. Ranging from 5 m to 40 m with sheer walls, mountains and coral gardens.
This site focuses on good visibility, a massive variety of hard and soft coral, strong currents and a healthy vibrant range of marine life for example, titan triggerfish, napoleon wrasse, green turtles, giant trevally and dogtooth tuna, to name but just a few.
Tourists, on the deeper dives will be able to see the rare white tip reef sharks and the sites are therefore suitable for divers and snorkelers of all levels.
Fundu gap with 5 dive sites
Situated south of Njao Island about a one hour boat ride from the resort, fundu gap separates Fundu Island and Njao Island.
The 5 dive sites (Mandela wall, pinnacle, coral garden, crack, and south wall) at fundu, range from 5 m to 40 m and allows for clear visibility, strong currents and large coral formations.
These sites are better known for their larger fish species such as eagle rays, napoleon's, GT'S and barracuda. The deep drop-offs and cooler waters allow for amazing soft coral growth such as Gregorian sea fans and anemone cities.
The macro life on these softer coral gardens is phenomenal and is suited for all levels of diver and snorkeler, where photography is a must.
The Swiss reef with 3 dive sites
Is a spectacular system of Sea Mountains running parallel to the wall on a platform 25 m down.
The mountains have different profiles; from just a few meters up to 100 m long. A traveler here can enjoy a drift dive over the system from one mountain to another, discovering the amazing reef life.
 There is also a good chance of seeing big pelagic and turtles. Due to the complexity, the activity is recommended for experienced divers.
Shimba hills with 2 dive sites
The last corner of the shimba wall breaks into two and forms a valley at 12 m depth.
It is wonderful to gaze at the sand bottom with lots of barrel sponges and anthers, red sea sweetlips, fusiliers, red tooth triggerfish and many other ocean life.
The dive is suitable for inexperienced and new divers but can be enjoyed by all.
Pemba Island – Shimba wall
A gentle sloping wall, starting at about 6 m and runs parallel to the island for about 500m, connecting with shimba hills.
The wall has a maximum depth of 25m making this suitable for advanced divers. The site is noted for its red tooth trigger fish, nudibranchs and leaf fish to name but a few.
The edge with 5 dive sites
Just west of the north-western peninsula lies the edge diving site. The wall starts at 30 meters and falls down steep!
On the top of the wall huge barrels sponges and spirals corals grow up to two meters high.
This is a great place for encounters with napoleon fish, potato grouper, cubera snapper, big pelagic, turtle and even white tip shark.
Only tourists with diver's certificates are allowed to dive on this site hence suitable for deep divers only as strong currents do occur more frequently.
Pemba Island – Pole Pole Mountain
Famously known as the mountain of coral that escalates from 30 m to 16 m.
The base of the mountain is scattered with smaller hills of corals, with lots of spotted sweet lips, nudibranchs and turtles. This site is for experienced divers and above, and can only be dived at slack tides.

Pemba island Beaches 
MAKOBA BEACH
The shore near Vitongoji town has several small attractive baobab-dotted coves with some weirdly eroded rocks and a little sand.
Most beaches are notable for scenery rather than swimming through a traveler can take a dip among the rocks to explore the waters at high tide.
The top spot is Makoba Beach, 7km east of Chake Chake. Take the left junction at the end of the paved road after Vitongoji; the other road leads to smaller Liko La Ngezi Beach.
The nearest dalla-dallas (local transport) will get you is to Vitongoji town for just less than $1 and it is a 30 to 45 minutes ride, which is 2km away from Makoba, from there, a driver will take you for $2. It's an easy bike ride from Chake Chake.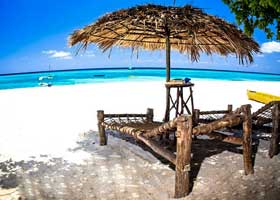 RAS MKUMBUU BEACH
Ras Mkumbuu is the long, thin strip of land jutting into the sea northwest of Chake Chake.
At its tip are the ruins of a settlement believed to be Qanbalu, the oldest known Muslim town in Africa. It was founded in the 8th century, and by the early 10th century it was one of the major cities along the East African coast.
The main ruins, consisting of a large mosque, some tombs and houses, date from around the 14th century, and several walls are still standing.
During the rainy season, a traveler is likely to be able to drive no further than Kichanjaani (Depu), leaving about a 3.5km walk.
To further explore the beach, taking a boat from Wesha will be an enjoyable ride.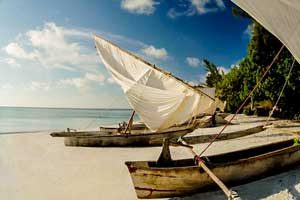 NGEZI FOREST RESERVE
The dense and wonderfully lush forest at Ngezi is one of the last remaining areas of primary, indigenous forest that once covered western Pemba.
It's notable in that it resembles the highland rainforests of East Africa more than the lowland forests found on Zanzibar.
The 1476-hectare reserve is a true double canopy with an upper layer of mgulele, mwavi, mtondoo and mvule trees (locally named) towering up to 40m high with lianas snaking between them providing swings for raucous vervet monkeys. A traveler will find a visitor's center 4km west of Konde on the road to Kigomasha.
The price for visiting this forest reserve is as cheap as $5 for adults and $2 for children just a small amount to contribute to the conservation of this last remaining ecosystem on the island.
Pemba Island – PEMBA MUSEUM
Filling what's left of an 18th-century Omani-era fort, which was probably built on the remains a 16th-century Portuguese garrison, this is a small but well-executed museum with displays on island history and Swahili.
A traveler will be able to enjoy a visit to Ras Mkumbuu, Mkame Ndume and Chwaka ruins much more if one stops here first to learn of the history before visiting the ruins that take one back to time.
CHWAKA RUINS
Take a trip back to history to experience the chwaka ruins. Beginning about 1.5km southeast of Tumbe, the ruins are spread out amid palm trees and cassava fields, dating back to the 9th century.
The main destination is the Haruni Site, with remnants of a town that existed from the 11th to 15th centuries and grew to perhaps 5000 people.
It's named after Harun, son of Mkame Ndume and, according to local tradition, just as cruel as his father. Legend says the pillared structure next to the semi-intact Friday Mosque is his tomb where he was buried.
These atmospheric ruins (late 15th to early 16th centuries) were either a fort or a palace of the infamous Mohammed bin Abdul Rahman, who ruled Pemba prior to the arrival of the Portuguese.
Locally, Rahman is known as Mkame Ndume (Milkier of Men), and for Pemba's his name is synonymous with cruelty.
The primary feature is a large stone staircase that led from the kilometer-long channel (now dry) connecting this site to the ocean, and while only a few small walls are left standing, the remains of the ramparts give an indication of Pujini's power in its heyday
Pemba Island – RAS KIGOMASHA LIGHTHOUSE
Located at the northern tip of Pemba, the Ras Kigomasha lighthouse was built by the British in 1900 and is still actively maintained by its keeper.
A traveler will scale up the tiny staircase (95 steps) for wonderful views of the surrounding and a glimpse of the sunset back across the island.
Pemba Island – KIDIKE SANCTUARY
Kidike Sanctuary is home to some 4000 bats, the island's biggest roosting site. There's a large population here due to the proximity of a local burial site, which meant the colony was undisturbed.
Kidike is 3 3.5km off the Chake–Wete road. Some people at the junction will hire their bicycles or you can wait for a lift.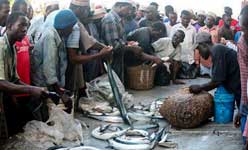 Pemba Island – WHERE TO EAT:
BALLOON BROTHERS
The balloon brothers is a local haunt which offers snacks such as samosas, sugar-coated mbuyu (baobab fruit) and bungo juice, the latter being very popular on Pemba Island.
For something more substantial the mishkaki (marinated beef skewers) are good.
TIMES RESTAURANT
An attempt to add some class to work-a-day Wete, a traveler should not miss a visit at this restaurant. This white-tablecloth restaurant's menu promises freshly prepared prawn curry, tandoori chicken and pizza.
Though if one plans to order any of these, it's best to let the cook know several hours in advance.
PEMBA MISALI SUNSET BEACH
Here a traveler will dine by the seaside on a mix of local (coconut curry with prawns) and international (macaroni and cheese) food. It's 7km west of Chake Chake in Wesha. This disheveled little grocery stocks exotic items such as peanut butter, pasta and cornflakes.
Written By Brenda Erica. Eco- Assistant camp Manager, Tanzania 
Get your direction Here