Mafia Island is the largest of a small archipelago of islands and atolls and is truly be one of the Indian Ocean's most hidden gem, with white sandy beaches, dazzling aquamarine waters and refreshingly few tourists.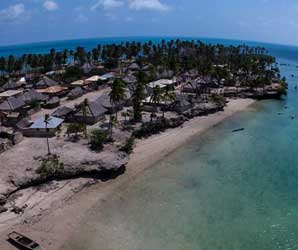 Mafia Island is often described as Zanzibar 30 years ago.
It is the southernmost of three islands (Pemba & Zanzibar) located off the coast of Tanzania.
The resident population of 46,000 are mainly fishermen or smallholder farmers that grow coconut, papaya, rice and cassava.
The islanders are friendly and welcoming and the atmosphere relaxed and laid-back. The sandy, semicircular strip of beachfront was the perfect antidote to busy Zanzibar, Solitude, nature and complete relaxation.
The sand is white and pure and one can always swim, despite tidal changes and the complete isolation from any other tourist facility or commercial activity of any kind.
Friendly people are one of the greatest attractions on any holiday and you will soon realize that, as for all of East Africa, the people of Mafia are extremely friendly, self-confident but humble, and always ready for a laugh. A lasting memory you will take away is how happy and spontaneous people are.
The dominant religion is moderate Islam and both Christians and Muslims live in peace and harmony.
The air and sea temperatures remain warm all year round with the rainy season between April to June.
Today Mafia is known as a beautiful Indian Ocean tropical resort that is famous for deep sea fishing and scuba diving.
Aquatic life is abundant and the coral gardens are pristine due to the protection of the Mafia Island Marine Park.
The park is located between the Rufiji River delta to the west and the open Indian Ocean to the east.
The dual influences of the river and the sea have combined to create a rich and exceptional biodiversity with unique landscapes under the sea and on dry land.
It is a unique and perfect destination for a traveler as part of a safari package or simply a place to unwind and get away from the daily, modern and busy world.
The Mafia archipelago consists of one large island (394 km²) and several smaller ones.
Some of the smaller ones are inhabited, such as Chole Island (2 km²), with a population of 1,415. Chole Bay, Mafia's protected deep-water anchorage and original harbor, is studded with islands, sandbanks and beaches.
The main town is kilindoni. The stretch of water between the deltas of the Rufiji River and the island is called Mafia Channel.
The popular rumors of pygmy hippo on the island were confirmed by the Tanzania Tourist Board in 2013 because of the first documented sighting by two tourists.
The Island boosts of over 400 species of species of fish including the rare dugong- the most threatened mammal thought to survive in Mafia Island.
The island is also home to the rare Comoros flying fox or fruit bat. Whale sharks and Humpback Whales can be found in the waters surrounding Mafia Island, as can turtles.
The pristine of the island is not the only thing that drives travelers all year round to the place but the peaceful nature of the island where most of all, Mafia is wonderfully peaceful and calming and a perfect place to find your feet again.
It may be realized by now, that tourists looking for nightlife, Mafia is not the place to come! Unless of course you wish to include night dives, dinner on the beach, star-gazing, and don't forget that by the time you have finished the day, evening cocktails and a splendid dinner, we bet you won't have much energy left to waste!
Hopefully Mafia Island will not become the 'next destination' but remain an eco-friendly niche. Currently there are about 3000 to 4000 overnight stays annually on the island.
However an annual Mafia Dance Festival is planned and will take place each August on remote beaches bordered by coconut plantations.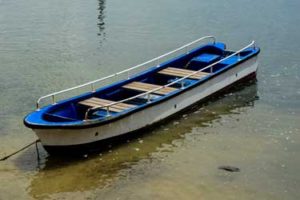 Mafia Island  – GETTING THERE Information 
Only 25kms from the mainland and 130kms from Dar es Salaam, the island is reachable by light aircraft in 35 minutes or 45 minutes from Zanzibar and the Selous Game Reserve. Some of the local operating airlines are discussed below.
Coastal Aviation operates two daily flights from Dar es Salaam, and their largest plane is a 13-seated Cessna, flights cost USD 110/person.
Tropical Air which is based in Zanzibar and for travelers wishing to fly to Mafia, this flight operation begins in Dar es Salaam. Auric Air also Operates Daily flights to Mafia, flight costs starting from USD 69/person one way.
On arrival to the island, there are only a few jeeps owned by the resorts or lodge. You can hire a rickety Land Rover with driver near the market in the center of Kilindoni.
The street are all still murrain, so it could be really fun to wonder about walking and get a bit lost along the main street where a tourist will meet all the locals working, interacting, bicycling, playing, etc.
If one is more adventurous, a bike can rented from the place you are staying. The price should be anything from 8 to 15usd/day.
The most fun however, is to take a typical sailing boat (dhow), but optionally bus services are also available. There is a wonderful structure all wood made where one can wait for the buses while being surrounded by residents with dresses and pots of different bright colors.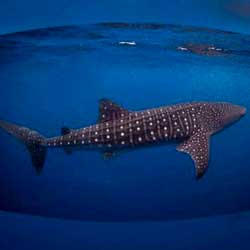 Mafia Island  – ACTIVITIES Information 
The island offers an array of things to do and enjoy while on a holiday. A traveler can enjoy water activities to normal land excursions in its most enjoyable form.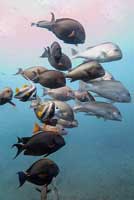 SCUBA DIVING AND SNORKELING
Mafia Island and its reefs are renowned as an excellent, world-class diving destination.
Scientists have confirmed that, Mafia has some of the richest reefs in the world, with an unparalleled variety of hard and soft corals and diversity of tropical fish.
There are fabulous identified dive sites of immense beauty and richness, biomes, channels, walls and caverns, drift and night dives. All of this is available to a tourist through our PADI dive center
WHALE SHARKS
As earlier mentioned, the island and its surrounding hosts a number of whale sharks numbering to up to 24 and can be seen at any one time: males, females and juveniles, all beautifully marked with stripes and spots.
The larger sharks are estimated at over 8 m long, so they are an impressive sight next to the boat, and quite stunning under the water.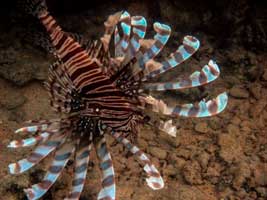 KAYAKING EXCURSION
Mafia Island has great spots for kayaking and at both Kinasi and Lua Cheia. A tourist will find free kayaks for touring the bays and beaches and for exploring the little islands around Mafia.
The kayaks are also designed to carry a cool box for drinks and snacks and have 'dry' compartments for storing towels and cameras as you enjoy the day with different water species.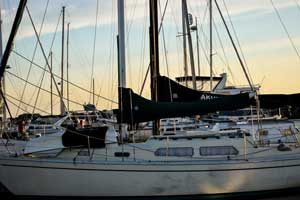 SAILING INTO HISTORY
Explore the vast waters of the island in the day sailing on a local boat, a ngalawa which rarely has engines, which are usually only used by the long-distance fishermen and fish-buying boats.
The sails are sewn by from midriff, a rough trade cotton which is perfect for a tourist to have the local feeling and the warm atmosphere of the place.
The ngalawa is based on an ancient Indonesian double outrigger design first brought to the western Indian Ocean over 1,500 years ago.
The seafarers who are believed to have come this far so long ago settled in northern Madagascar.
FISHING
Fishing has always been a fun activity for a tourist to do while on the island. Being a national park fishing is restricted in some area and breeding grounds for this fish, for conservation, it's advised that fishing is not conducted in such areas.
Enjoy deep fishing in Mafia and recently at Lua Cheia. Professional fishing for all species is guaranteed, including fly fishing for sailfish, wahoo, giant trevally, barracuda, kingfish and a variety of tunas. Get dinner free of charge if one is successful.
WINDSURFING
Kinasi Lodge and Lua Cheia accommodation facilities have windsurfers available free-of-charge to the guests who are staying at both properties. A traveler therefore can enjoy windsurfing with just few arrangements with the hoteliers upon arrival.
There are boatmen to help and move the boards to the beach for one to enjoy surfing without the hustle of getting tired with carrying the boards.
BOAT EXCURSIONS & PICNICS
There are a variety of beaches and sandbars within a short distance of Kinasi in Chole Bay such as Miewe, Mvinje, Marimbani Sand Bar, Mchangani among others.
Further away are Kitutia and Mange reefs, which are all-day excursions and usually arranged by the Excursion Manager for all guests, with barbecued fish on the beach.
LAND ACTIVITIES
Land activities can also be done and enjoyed by a traveler while on the island.
GUIDED EXCURSIONS
Guided excursions are arranged to the islands and village communities of Chole and Jibondo. The boat building on both of these islands is justly famous throughout East Africa.
All traditional methods are used, with hand tools and hand-forged nails to create the jahazis, dhows, mashuas and ngalawas as it is witnessed in Mafia isand.
The Mafia Archipelago hosts antiquities dating back to the Eleventh Century, including ruins at Kisimani Mafia, Kanga, Kua on Juani Island and Chole Island.
These include a beautiful, barrel-vaulted mosque of the Fifteenth Century and a number of well-preserved buildings of the latter half of the Eighteenth Century, providing great interest for the methods of construction and the ancient architecture.
The guided excursions therefore is a great way for a tourist to examine these for those interested in history, ancient trade and the promise of new discoveries.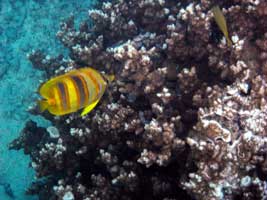 PICNIC DAY TRIPS
Kua Channel is one of the common daily destinations for the excursion boat El Nino, which will go somewhere each day for guests who wish to sunbathe and picnic on beaches or islets.
Other lovely secluded picnic spots abound in Chloe Bay: Miewe Island with its secluded beach and the enormous baobab trees that provide ample shading, beaches on Juani and Jibondo Islands which are accessible by boat and Didimiza which is at the end of the Nature Trail, by walking.
CYCLING
An adventurous and yet environmentally friendly way to see the island and also observe the lives of the local people and see how they use the land and depend entirely on nature.
WALKS & BIRDWATCHING
All walks in Mafia are enjoyable as the people of Mafia are friendly and do not harass tourists for any gifts or money.
Walk the streets and learn a thing or two about the island people including their history and culture which makes them unique.
Bird watching in Mafia adds a very interesting dimension to a Tanzania wildlife safari, as the traveler will see many species of shorebirds that cannot be observed in the mainland National Parks and Reserves.
ROAD EXCURSIONS
Road safaris to other areas of Mafia complement the traveler's experience and understanding of traditional village life; take a day to learn and experience the different lifestyle of the mafia people which is quite interesting.
The Kirongwe village is famous for its clay pots molded with such grace and expertise, from centuries passed on from generation to generation and Jimbo village for its ukili mats.
Visit the Mrora Forest and enjoy the lush green vegetation that gives life and home to different bird species, enjoy the melodies and the deep forest sounds, Ras Mbizi coconut plantation where a tourist can taste the coconut water fresh from the trees and many more. A road excursion is one not to miss.
Mafia Island – ACCOMMODATION Information 
There are a number of accommodation facilities in the island and a traveler cannot miss a place to spend the night while enjoying the rest of what the island has to offer.
Some of these accommodations have been discussed briefly just to give a heads up.
Kinasi boutique resort, a short ride across the island from the airport and the main town of Kilindoni, the lodge overlooks Chole Bay in Mafia Island Marine Park.
This resort, situated in an old cashew and coconut plantation, provides a luxury stay.
The room designs, furnishings and finishes are eclectic, combining elements of coastal Tanzania, African, Indian and Arab cultures into a historically accurate "Shiraz" style that is unique to Kinasi.
All cottages are en suite with hot solar-heated water and have ample hanging space, a desk and chair, verandah chairs and table, double chaise, full-length mirror, ceiling fan for cool air.
The cottages have walk-in mosquito nets that cover the beds completely, and have been designed for through-ventilation and coolness in all seasons
Lua Cheia castaway Beach camp, located at Bweni Village near the northern tip of Mafia is called Ras Bweni. "Ras" stands for peninsula, and from here one has fine views of the sweeping bay and palm-fringed beaches, superb sunsets over the Rufiji Delta and the moon rising over the Indian Ocean.
This part of Mafia is where the beautiful beaches have been formed.
A journey to the north takes the traveler to a completely different part of Mafia that is quite another world of vegetation, beaches and activities. It is 55 km from Kilindoni the main city and where the airstrip is.
The stunning feature of the location is the 2 km of beach stretching away in both directions, all to be enjoyed by a tourist, the sand is white and pure and one can always swim, despite tidal changes.
And the complete isolation from any other tourist facility or commercial activity of any kind. Solitude, nature, complete relaxation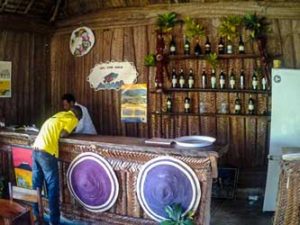 Shamba Kilole Lodge
Is located just opposite the gate of the Marine Park of Mafia Island. It consists of five hectares plot with secular trees and the spectacular view of Kilole bay and the islands of Chole, Juani and Jibondo. This Lodge is also a PADI resort (a diving center.)
Meremeta Lodge
Near Utende. Individual Guest House with an owner who has an option for any wish his guest might have. Room rate is $ 50 per night, including breakfast. Dinner can be arranged for $ 10 and lunch for $ 7 per person.
Didimiza Beach guest house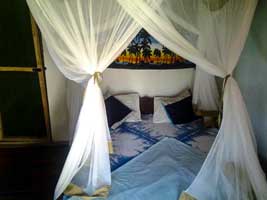 Locally owned guest house situated on a mangrove beach in the grounds of an old cashew nut plantation provides a peaceful and natural experience to Mafia Island.
Room price is $40 per night, including breakfast. Dinner and lunch can be arranged. Each room has overhead fan, ensuite bathroom and large veranda to enjoy the surrounding.
Nyumbani Rest House
offers budget accommodation in houses overseeing the sea in Kilindoni village, about a 5 minute ride by tuk-tuk (2000 TZS or 1 USD) or a 15 minute walk.
It is located north from the airport. To get there, you need to bypass the airport on the west and continue north. About 300 m after the gas station is an intersection where you need to turn left.
After about 300 m is a gate to hospital. Nyumbani Rest House is located behind the hospital.
There is a gravel road on the right side within the hospital plot. The area is very safe.
There are 4 buildings with tourist accommodation with a total of 8 simple double rooms and a big covered terrace for eating, resting, meeting.
Each room has its own bathroom with shower, sink and western toilet. The rooms don't have ceiling fans but feature mosquito nets. Accommodation cost 25 USD for a double room.
Breakfast and Wifi are included in the price, lunch and dinner can be arranged from 5-11 USD. 25 USD