Saint Pierre, which is considered as the capital-city of the South (Saint Denis being the one of the North and the only official one of the Reunion island),never stopped developing itself for the past decades.
Four Industrial areas, a marina, an airport (Pierrefonds), a lively city-centre and a strong agriculture can explain why Saint Pierre acquired this status.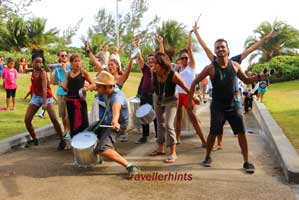 The seafront with the marina and the nearby city-center are a favorite of party-goers with all the restaurants, the casino, pubs and night clubs… if partying is what you like, then you should head there early June, during the Sakifo festival.
Spread over 3 days, it invades the city with 7 stages with different kind of music to meet everyone's tastes. In fact, musicians from all over the world are invited every year.
Saint Pierre has more to show than just a lively atmosphere. Indeed, the city is labelled "pays d'art et d'histoire".
This French label rewards communities engaged in a politic of enhancement of their heritage, be it historical, architectural, natural or industrial.
The town hall, former shop of the French East India Company, colonial building of the first half of the 18th century. The villa Motais de Narbonne (current sub-prefecture), is a typical middle-class house with a neo-classical style, in vogue in La Reunion in the middle of the 19th century.
The museum "Saga du Rhum" located in the oldest distillery of the island. Guided visits through the city will help you understand the history of Saint Pierre and in a certain extend of La Reunion.
For all nature lovers, Saint Pierre has also a lot to offer. Go for an helicopter ride and reach for the sky to discover the magnificence of the island landscapes from another angle. If you want to go off the beaten track, you can try the ride with a microlight.
And after going up, above the island, why don't you go under and discover the hidden splendor of the island underwater, scuba diving.
Talking about water, one of the asset of Saint Pierre is its marina where you could get a boat for some deep-sea-fishing session. Reunionese waters are famous being filled with pelagic fishes such as tunas, mahi-mahi, sharks, marlins and much more.