Last updated on July 23rd, 2019 at 06:03 am
Northbridge-Perth Sex Info Guide for Travellers 
The popular Northbridge-Perth is a wonderful place for Perth local nightlife and stands also as a Cultural district.
It is also pretty well known for its red light district in Perth. The Metropolitan. Northbridge is in Perth hosts many restaurants, vibrant nightlife outlets, cafes, local festivals of all kinds, health wellness events as well as places offering erotic massage with happy ending and other sex service and pleasure places like brothels etc.

Hipster boutiques and Asian restaurants surround the William Street (Another side of the bridge.)James St, Roe St, Newcastle st and Aberdeen St.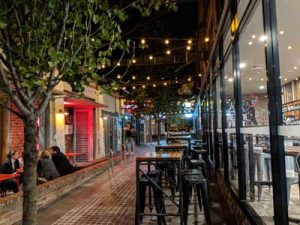 Beaufort street also, well popular NIGHTLIFE street in Northbridge-Perth, and home to various of pubs, cafes, few clubs and restaurants. 
There you can find cozy cocktail lounges, VIP clubs, and casual backpacker bars and hotels.
Russell Square, which was built in the 19th century, has parkland sculptures and an outdoor platform for a live music. During summer months, it hosts the summer Fringe World Festival.
Northbridge-Perth Nightclubs
Mint Nightclub
Mint Nightclub is one of the Perth's Original bars. It is probably the best venue stylized in a retro theme playing the best rhythms.
Especially Fridays and Saturdays belong to the Retro era. It is a fresh and stylish place, popular among both locals and tourists.
Don't forget to dress up in a retro style if you wanna come in for the Retro night, dress up nicely for any other night.
Connections Nightclub
Connections Nightclub is Perth's top and very popular gay and lesbian nightlife venue.  The connection is a place offering as an alternative to the general nightclub culture in Perth, but in a safe manner for everyone.
Situated in the heart of Northbridge eve since the year 1975, "The Club" is proud to be "Perth's premiere gay and lesbian nightspot"
They also provide some of the most upfront music produced by the best DJs in the area, Connections has a truly friendly atmosphere and outstanding services.
They also have super wild theme nights, parties and all kind of entertainment.
Jack Rabbit Slim's
Jack Rabbit Slim's is one of the popular nightlife venues located in Northbridge-Perth. Combining live music, bar, and a late night dinner.
The interior is in a retro theme. Come and have fun with their signature flavored tequila shot drink in the upstairs area!
Library
The library is situated at the high end of Lake Street. It definitely belongs to one of Perth's most unique venues.
Library combines together many elements. It is a bar, club as well as a lounge, all in one place.
The interior is stylish, there are three levels with different music, amazing lighting system, and great quality sound systems. You won't get bored spending the entire night here
Metro City
Metro City is the greatest venue for Concerts different Entertainment and all-night clubbing. Metro City is hosting some of the finest live shows in the world of many DJs and Performers.
Break the rules, provoke, enjoy absurdity and live through the night at one of the greatest parties in your life.
Paramount Nightclub
Paramount is a very popular center for entertainment. Be careful with your dress code when you go there, you may get kick out if not dressed properly.
No dirty or ripped jeans or any other torn clothing. Make sure that you are looking clean and fresh and you will be fine.
Rocket Room
Rocket Room offers 100% of live Music on Friday's. Are you ready to Rock? Rocket Room has now a brand new sound system and new lighting and the atmosphere is incomparable. Enjoy some of the best live music scenes in Perth' on 174 James St in Northbridge.
Air Nightclub
Air Nightclub become a finalist in 2017 Nightclub of the Year competition of the Australian Bartender Magazine, and that surely means something!
They are proud to be the best. The staff and their service is excellent, the interior is stylish and cozy and the cocktails they serve are simply delicious!
Geisha Bar
Geisha Bar is quite a decadent nightclub. It's a place where rising stars and fashion Geisha Bar is Perth's most decadent nightclub.
It's where Perth's fashionistas and rising stars go and gossip above their drink. The venue is situated in the heart of Northbridge.
The interior is a fusion of timber and leather. It is a place where young contemporary pop artists casually mingle and enjoy their night.
Sexy Australians  Ladies-  Penthouse Club Perth
Are you looking for Perth's best strippers? Topless or nude waitresses and bartenders, sexy bodies and unbearable hear. Then you found the place.
Penthouse Club in Perth has was once awarded the "International Gentlemen's Club of The Year 2015″ prize at the USA's ED Awards.
Penthouse Club Perth in Northbridge offers a complex Entertainment Experience. They combine gorgeous and beautiful dancers and amazing and skilled Strippersover the world.
You can hire sexy female strippers for corporate events, bucks party or a boat party in the region.
Northbridge-Perth  After the night out entertainments
Best Sexy Ladies – International 300 Girls
If you're looking for a place to have a sensual full body massage, you just found it right here. Get a massage from head to toe and everything in between and after. Maybe you will even get a complimentary front and back body slide.
Esquire Spa and Massage.
Come and enjoy the company of the most beautiful ladies in Perth! Esquire Spa and Massage set the benchmark for adult relaxation truly high.
It is the so-called Perth's premier Gentleman's retreat since 2004. It should definitely be your first choice for discreet adult relaxation.
Caseys Massage
Caseys Massage will not disappoint, not a single second. From the moment you enter, you find yourself in a place of erotic seduction.
Your wildest fantasies will become reality and you won't wanna leave. Satisfaction guaranteed.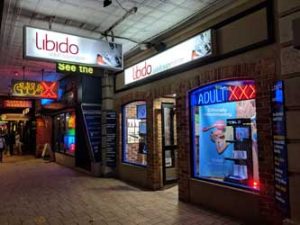 Natural Massage
Newly opened Massage place just right on James Street is providing happy ending massages. 
The Massage center next door of Northbridge Adule entertainment center. Initial massage will cost you Aus $ 80 and extra AUS50 for the lady later if do you need a happy ending. It is Asian massage place and all girls are Asians.  
More Travel Blog Here 
Northbridge-Perth Red Light District on Google Map Here