How to Cook Dinner in Your Hostel Kitchen Info Guide.
As someone who is traveling solo means, backpacking like working holiday or long term going may face some difficulties to have healthy food. Because most of the young travelers are running on a low budget.
I still remember myself, when I was on a road trip around Australia almost 10 years ago. Of course, I did eat junk food. I sat back and thought about it. And, Nowadays, I do cook myself in my Hostel most of my traveling life.
The Main Reason Why I do Cooking My Food.
Travelling Fit and staying the same ( same as before I started my journey)
Eating freshly.
I know my food have no MSG.
I feel that Traveling Like a Local.
How to Cook Fish for Your Dinner in the Hostel Kitchen?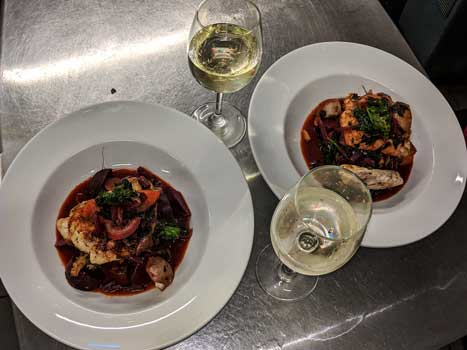 Absolutely, It is not that heard at all. You just need little knowledge and little cooking skills.
Ingredients
Choose your fish the way you like( Fish on the video is Barramundi)
Beetroot
An onion
Parsley
Any other green vegetables as you wish
Butter
Oil
Sault
Pepper
Potato *2
Sugar 1 tablespoon
Look Up My Little Cooking video Here.
Method of Easy Cooking in the Hostel Kitchen
Due to lack of equipment, facilities, and ingredients. I used my methods of cooking very simple.
Cut beetroot and potatoes, put into the pan and boiled it until just cooked.
Cut all your vegetables and herbs marinate your fish with little oil, and pepper.
When half cooked beetroot, get some cooking boiling water into a sperate cooking pan and star it reduced, later used it as your sauce.
When baked potato and beetroot, drained water.
Second Stage
Get a cooking pan, heat it up, add onion, and all other vegetable steps by steps. And add cooked beetroot and potatoes into the vegetable mix. Then, add the reduction of beetroot water and little of sugar and butter. Any of spices such as paprika or chili can be added as you wish.
Main-time, Get another cooking pan, heat it up, add oil and place fish. Cook it the way you like, if it salmon, MR is the best.
Few General Tips for Travelling Healthy!
Skip airline food.
Eat your Breakfast all the time – How to cook a simple breakfast in your Hostel. Look up Budget food Breakfast.
Eat more fruits and vegetable.
Keep water a bottle with you all the time.
Regular exercises.
I hope that Hostel Kitchen cooking may be helping you to cook your food in backpacker or medium size hotel apartment and able to traveling fit around the world.
More Travel Blogs Here
Visit Iceland: List Of Beautiful Waterfalls In Iceland
The Most Refreshing and Delicious Drink
Best Restaurants in Kiev offer You Food of Classy Nature
Best Hostels In Perth Info Guide